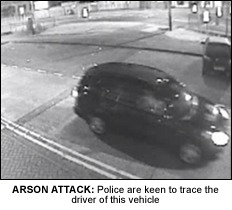 A WOMAN has revealed how her sister-in-law and young nephews still "live in terror" after they nearly died in an arson attack on their Leicesier home.
Shabina Khan, 31, and her two sons, nine-year-old Awez and six-year-old Arbaaz were caught in the inferno as it gripped their Belgrave home in May this year.
Doctor's had feared Ms Khan would not survive but she is now able to speak after two months unconscious in a burns unit.
Her two son's have also recovered well and have been discharged.
Ms Khan's sister-in-law Sharmila Gaffar, today joined police in appealing for witnesses to come forward.
"This incident has had a devastating effect on the whole family. They all still live in terror of the memories of that night and continue to fear for their safety", she said.
"None of us can understand what has motivated someone to want to inflict such pain and suffering and deprive these innocent people and children of their home."
Detectives investigating the fire have released CCTV footage of a car they are trying to trace in connection with the incident.
Detective Superintendent Chris Thomas who is leading the investigation said: "This dark people-carrier type vehicle was seen driving close to Sutton Avenue ten or fifteen minutes before the fire started.
"It could be that it is completely unrelated to the arson but the driver was in the area at the time the fire was started and they could, without realising it, be a key witness.
"If you recognise the vehicle or know you were driving in Belgrave that morning then please get in touch.
"I'm sure there is someone out there who knows more about this arson who has not yet come forward. I would ask them to consider why they are protecting the person who is responsible.
"Three innocent people were left very seriously ill. Virtually a whole family was nearly destroyed because of one person's actions. Please do what you would want others to do if it was your family.
"If you don't feel you can contact us directly then please make use of Crimestoppers which is free and anonymous."
A 38-year-old man was arrested in connection with the incident and released on police bail pending further enquiries.
Anyone with any information about the incident is asked to contact the Leicestershire Constabulary on (0116) 222 2222 quoting Operation Tahiti. Alternatively, people can contact Crimestoppers, which is free* and anonymous on 0800 555 111.