 Twenty20 snub 'illogical', says bowler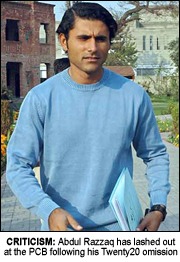 PAKISTAN'S Abdul Razzaq has spoken publicly about his Twenty20 omission, lashing out at the Pakistan Cricket Board.
The 27-year-old found himself cast in the wilderness after he was left out of the Twenty20 squad for the World Championship.
Appearing on Pakistan's GeoTV he threatened to turn his back on the country.
"If this is the way I am going to be treated after serving the country honestly and diligently," Razzaq said, "I should be the one now to decide when to make myself available for national selection."
The all-rounder who has an impressive record for his country said he was now considering an offer to switch to the lucrative Indian Cricket League even though PCB chairman Nasmin Ashraf has publicly stated there is no international future for those opting for the new league.
And the fact that Razzaq has yet to sign and return his central contract casts further doubt over his future plans for Pakistan.
Shafqat Naghmi, the PCB's chief operating officer said they were reviewing Razzaq's comments and were undecided whether to take disciplinary action against him.
Criticising board policy is definitely a breach and we have taken note of the interview but have not yet decided whether to take any action", he told Cricinfo.
"He has the freedom to say what he feels and certainly we understand he must have been disappointed. We are aware of it but are currently undecided over any future action to take."
Razzaq's outburst has caused further problems for Pakistan just days after they were caught up in a discipline wrangle with fast bowler Shoaib Akhtar.
The player, who is hoping to return to full team selection in the Twenty20 World Championships was fined for walking out of a training camp and failing to turn up to the subsequent disciplinary hearing. He has contested the fine. 
The PCB also risk losing Mohammed Yousuf after he was omitted from the Twenty20 squad and has yet to sign his central contract.
Conceivably he could also turn his back on Pakistan after admitting last week he had been approached by the ICL.