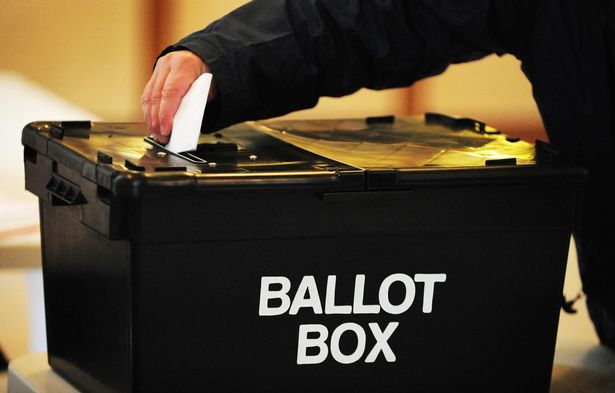 There have been some important changes made to Birmingham City Council elections.
This is the first time that Birmingham City Council residents will have the chance to vote in an 'all out' election.
There will not be another ballot until 2022.
The number of wards has increased from 40 to 69, so each one is smaller with fewer people in it and are represented by 101 councillors – with either one or two councillors serving each ward.
Some polling stations are changing too.
Please take the time to check your poll card before you head to the polling station.
If you are registered, you will still receive a poll card with information about which ward you are in and where your polling station is.
Always check this before you vote.
While most people take their poll card with them to vote, don't worry if you forget – if you are registered you will still be able to vote.
Councillors for each area:
Acocks Green Ward
Labour: John O'Shea, Fiona Williams
Conservative: Wajad Ali Luke Watson
Liberal Democrat: Roger Harmer Penny Wagg
Green Party: Amanda Caroline Baker
Trade Union and Socialist Coalition: Eamonn Kevin Flynn
Allens Cross Ward
Labour: Steve Bedser
Conservative: Eddie Freeman
Liberal Democrat: Claire Fielden
Green Party: Peter Charles Beck
Common Good: Dick Rodgers
Alum Rock Ward
Labour: Mariam Khan Mohammed Idrees
Conservative: Richard Brookes-Bland Amil Khan
Liberal Democrat: Thomas Lister Colin Ross
Aston Ward
Labour: Muhammad Afzal, Nagina Kauser
Conservative: Margaret Bennett, Jahid Choudhury
Liberal Democrat: Ayoub Khan, Sham Uddin
Green Party: Vijay Rana
Independent: Abdul Aziz
Balsall Heath West Ward
Labour: Zhor Malik
Conservative: Ali Fazel
Liberal Democrat: Islam Issa
Green Party: Martin Guest
Birmingham Worker: Sammi Ibrahem
Bartley Green Ward
Labour: Paul Preston Joanne Shemmans
Conservative: John Lines Bruce Lines
Liberal Democrat: David Osborne Maureen Osborne
Green Party: James Robertson
Billesley
Labour: Phil Davis, Lucy Seymour-Smith
Conservative: Jane James, Tom Huxley
Liberal Democrat: Alan Morrow, Phil Wagg
Green Party: Robert Grant, David Gaussen
Birchfield Ward
Labour: Mahmood Hussain
Conservative: Raja Khan
Liberal Democrat: Rezaul Billah Islam
Bordesley & Highgate Ward
Labour: Yvonne Mosquito
Conservative: Julia Mackey
Liberal Democrat: Daniel Illif
Green Party: Tom Jenkins
Bordesley Green Ward
Labour: Chauhdry Rashid
Conservative: Ayan Tifow
Liberal Democrat: Mohammed Saeed
Green Party: Alan Clawley
Bournbrook & Selly Park Ward
Labour: Karen McCarthy, Brigid Jones
Conservative: Monica Hardie, Angus Gillan
Liberal Democrat: Jake Calcutt, Sophie Thornton
Green Party: Alice Kiff, Benjamin Mabbett
Trade Union and Socialist Coalition: Sam Witts
Bournville & Cotteridge Ward
Labour: Liz Clements, Fred Grindrod
Conservative: Peter Douglas Osborn, Rob Sealey
Liberal Democrat: Dave Radcliffe, Tim Stimpson
Green Party: Anna Masters, Claire Hammond
Trade Union and Socialist Coalition: Clive Walder
Brandwood & Kings Heath Ward
Labour: Lisa Trickett, Mike Leddy
Conservative: Gordon Franks, Joshua Mackenzie-Lawrie
Liberal Democrat: Chris Burgess, Rob Gilliam
Green Party: Patrick Cox Julie Kaya
Trade Union and Socialist Coalition: Bill Murray
Birmingham Worker: Katherine Cremer
Bromford & Hodge Hill Ward
Labour: Majid Mahmood, Diane Donaldson
Conservative: Aminur Rahman, Bogdan Tudor
Liberal Democrat: Gwyn Neilly, Asad Mehmood
Castle Vale Ward
Labour: Lynda Clinton
Conservative: Suzanne Webb
Liberal Democrat: Trevor Holtom
Trade Union and Socialist Coalition: Kris Sucilla O'Sullivan
Druids Heath & Monyhull Ward
Labour: Victoria Quinn
Conservative: Ben Brittain
Liberal Democrat: Emily Cox
Green Party: Julien Pritchard
Edgbaston Ward
Labour: Jenny Nolan, Marcus Bernasconi
Conservative: Matt Bennett, Deirdre Aiden
Liberal Democrat: Daniel Chamberlain, Jamie Scott
Green Party: Alexander Nettle
Erdington Ward
Labour: Vic Hooper, Dee Smyth
Conservative: Robert Alden, Gareth Moore
Liberal Democrat: Thomas Hunt, Callum Reilly
Green Party: Rebecca Collins
Frankley Great Park Ward
Labour: Andrew Cartwright
Conservative: Simon Morrall
Liberal Democrat: Gerry Jerome
Garretts Green Ward
Labour: Saddak Miah
Conservative: Simon Conn
Liberal Democrat: Carol Jones
Glebe Farm & Tile Cross Ward
Labour: Marje Bridle, John Cotton
Conservative: Rosemary Gasson, Fergus Robinson
Liberal Democrat: Rafiqur Rahman, Shamsur Rehman
Independent: Paul Clayton
Gravelly Hill Ward
Labour: Mick Brown
Conservative: Luqmaan Nawaz
Liberal Democrat: Philip Mills
Hall Green North Ward
Labour: Lou Robson, Akhlaq Ahmed
Conservative: Tukeer Hussain, Sohan Singh
Liberal Democrat: Andy Spruce, Stephanie Spruce
Green Party: Gareth Courage
Independent: Bob Harvey
Hall Green South Ward
Labour: Changese Khan
Conservative: Tim Huxtable
Liberal Democrat: Jerry Evans
Green Party: Ulla Grant
Handsworth Ward
Labour: Hendrina Quinnen
Conservative: Enam-Ur Rahman
Liberal Democrat: Kingsley Douglas
Green Party: Susan Green
Handsworth Wood Ward
Labour: Gurdial Atwal, Narinder Kooner
Conservative: Steve White, Ravi Chumber
Liberal Democrat: Rizwan Ali, Nicholas Joliffe
Green Party: Eric Fairclough
Independent: PG Aathouli-Singh
Trade Unionist and Socialist Coalition: Rachel Jenkins
Harborne Ward
Labour: Sundip Meghani, Jayne Francis
Conservative: Peter Fowler, Akaal Sidhu
Liberal Democrat: Ian Garrett, Colin Green
Green Party: Phil Simpson
Heartlands Ward
Labour: Shafique Shah
Conservative: Mary Storer
Liberal Democrat: Faisal Mahmood
Green Party: Janet Assheton
Independent: Aftab Hussain
Highter's Heath Ward
Labour: Barry Bowles
Conservative: Adam Higgs
Liberal Democrat: Kirsty Jerome
Green Party: Clare Thomas
Holyhead Ward
Labour: Paulette Hamilton
Conservative: Mujakkir Ahmed
Liberal Democrat: Foysol Ahmed
King's Norton North Ward
Labour: Alex Aitken
Conservative: Simon Jevon
Liberal Democrat: Brian Peace
King's Norton South Ward
Labour: Peter Griffiths
Conservative: Barbara Wood
Liberal Democrat: Peter Lloyd
Kingstanding Ward
Labour: Jane Jones, Des Hughes
Conservative: Ron Storer, Gary Sambrook
Liberal Democrat: Violaine Mendez, James Perrott
Ladywood Ward
Labour: Albert Bore, Kath Hartley
Conservative: Nayaz Qazi, Kenneth Morris
Liberal Democrat: Lee Dargue, Stephen Lambert
Green Party: Robert Jones
Longbridge & West Heath Ward
Labour: Carmel Corrigan, Brett O'Reilly
Conservative: Debbie Clancy, Graham Knight
Liberal Democrat: Hugh Duffy, Jim Whorwood
Green Party: Susan Pearce
Lozells Ward
Labour: Waseem Zaffar
Conservative: Abdul Khalique
Liberal Democrat: Sadek Hussain
Moseley Ward
Labour: Martin Straker Welds, Kerry Jenkins
Conservative: John Turner, Dominic O'Callaghan
Liberal Democrats: David Farrow, Izzy Knowles
Green Party: Rachel Xerri-Brooks
Nechells Ward
Labour: Tahir Ali
Conservative: Neil Shastri-Hurst
Libearl Democrat: Shazad Iqbal
Newtown Ward
Labour: Ziaul Islam
Conservative: Desmond Jaddoo
Liberal Democrat: Sultan Ahmed
North Edgbaston Ward
Labour: Carl Rice, Sharon Thompson
Conservative: Raj Padda, Dal Sidhu
Liberal Democrat: Ned Hilton, Joni Hood
Independent: Gino Bellavia
Northfield Ward
Labour: Olly Armstrong
Conservative: Randal Brew
Liberal Democrat: Andy Moles
Green Party: Anne Okole
Oscott Ward
Labour: Barbara Dring, Keith Linnecor
Conservative: Leona Leung, Tom Coffey
Liberal Democrat: Andy Fullylove, Marcia Hunt
Green Party: Harry Eyles
Perry Barr Ward
Labour: Sukhi Kaur, Mohammed Hanif
Conervative: Janet Coffey, Tariq Rashid
Liberal Democrat: Jon Hunt, Morriam Jan
Trade Unionist and Socialist Coalition: Corinthia Ward
Perry Common Ward
Labour: Anita Ward
Conservative: Bob Beauchamp
Liberal Democrat: Stephen Allsopp
Pype Hayes Ward
Labour: Michael Sharpe
Conservative: Clifton Wlech
Liberal Democrat: Ann Holtom
Green Party: John Bentley
Quinton Ward
Labour: Kate Booth, John Clancy
Conservative: Rachel Okello, Georgina Chandler
Liberal Democrat: Julia Garrett, Jo Walker
Green Party: James Bolton
Rubery & Rednal Ward
Labour: Carole Griffiths
Conservative: Adrian Delaney
Liberal Democrat: Kevin Hannon
Green Party: Robert Ball
Shard End Ward
Labour: Ian Ward
Conservative: John Alden
Liberal Democrat: Christopher Barber
Green Party: Michael Harrison
Trade Unionist and Socialist coalition: Mark Andrews
James Scroggie
Sheldon Ward
Labour: Bob Collins, Julia Larden
Conservative: Nicholas Psirides, Suhel Ali
Liberal Democrat: Paul Tilsley, Mike Ward
Green Party: Kevin Harrison
Small Heath Ward
Labour: Safia Akhtar, Zaheer Khan
Conservative: Kabir Uddin, Pervez Akhtar
Liberal Democrat: Shaukat Ali Khan, Gerry Moynihan
Green Party: Hazel Clawley
Independent: Shaaky Ahmed
Soho & Jewellery Quarter Ward
Labour: Chaman Lal, Sybil Spence
Conservative: Janatul Choudhury, Mohammed Islam
Liberal Democrat: Gareth Hardy, Richard Maxwell
Green Party: Kefentse Dennis
South Yardley Ward
Labour: David Welburn
Conservative: Susan Axford
Liberal Democrat: Zaker Choudhry
Green Party: Christopher Garghan
Sparkbrook & Balsall Heath Ward
Labour: Mohammed Azim, Shabrana Hussain
Conservative: Abu Nowshed, Mohammed Sweet
Liberal Democrat: Joynal Abedin Satwinder Singh
Green Party: Roxanne Green
Sparkhill Ward
Labour: Mohammed Fazal, Nicky Brennan
Conservative: Mohammed Talukder, Murad Mohammed
Liberal Democrat: Tanveer Choudhry, Tassawer Hussain
Stirchley Ward
Labour: Mary Locke
Conservative: Owen Williams
Liberal Democrat: Phil Banting
Green Party: Elly Stanton
Birmingham Worker: Reuben Lawrence
Stockland Green Ward
Labour: Josh Jones, Penny Holbrook
Conservative: Mohammad Kayani, Asif Mehmood
Liberal Democrat: Joe Harmer, Rizwan Syed
Trade Unionist and Socialist coalition: Ted Woodley
Sutton Four Oaks Ward
Labour: Roger Barley
Conservative: Maureen Cornish
Liberal Democrat: David Willet
Green Party: Fiona Nunan
Sutton Mere Green Ward
Labour: Ian Brindley
Conservative: Meirion Jenkins
Liberal Democrat: Jonny Mayner
Green Party: David Ratcliff
Sutton Reddicap Ward
Labour: Judy Preston
Conservative: Charlotte Hodivala
Liberal Democrat: Tim Cotterill
UKIP: Stewart Cotterill
Sutton Roughley Ward
Labour: Paul Tomlinson
Conservative: Ewan Mackey
Liberal Democrat: Kate Potter
Green Party: Will Greaves
Sutton Trinity Ward
Labour: Peter French
Conservative: David Pears
Liberal Democrat: Jenny Wilkinson
Green Party: Sean Madden
Sutton Vesey Ward
Labour: Kath Scott, Rob Pocock
Conervative: Louise Passey, Janet Cairns
Liberal Democrat: Matthew Gibson, Mohammed Khalid
Green Party: Colin Marriott
Sutton Walmley & Minworth Ward
Labour: Paul Finnegan, Katy Coxall
Conservative: Ken Wood, David Barrie
Liberal Democrat: David Cooke, James Garrington
Green Party: Ben Auton
Independents for Sutton: David O'Hagan
Sutton Wylde Green Ward
Labour: Terry Johnson
Conservative: Alex Yip
Liberal Democrat: Malcolm Spencer
Green Party: Zoe Challenor
Tyseley & Hay Mills Ward
Labour: Zafar Iqbal
Conservative: Shafayet Khan
Liberal Democrat: Syed Jamshed Ali
The Liberal Party: Mike Sheridan
Ward End Ward
Labour: Mohammed Aikhlaq
Conservative: Joseph Hamblin
Liberal Democrat: Nazabit Ali
Independent: Wajid Hussain
Weoley & Selly Oak Ward
Labour: Julie Johnson, Tristan Chatfield
Conservative: Andrew Hardie, Des Flood
Liberal Democrat: Trevor Sword, Robert Wright
Green Party: Eleanon Masters
Trade Unionist and Socialist coalition: Nick Hart
Yardley East Ward
Labour: Ann Wackett
Conservative: Edwin Caldecott
Libearl Democrat: Neil Eustace
Yardley West & Stechford Ward
Labour: Basharat Dad
Conservative: Ali Mothin
Liberal Democrat: Baber Baz