 Hollywood beckons for Bollywood beauty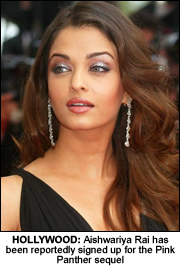 ASHWARIYA Rai looks to have made a big splash in Hollywood after reports revealed she has been cast in the big-money Pink Panther sequel.
The actress, who is already a star name amongst the non-Asian movie-going public, will star opposite Hollywood heavyweights Steve Martin, Andy Garcia and John Cleese in the film.
Rai will star as a detective and expert along with 'Spiderman 2' villain Alfred Molina and Garcia, who join forces with bumbling French police detective Jacques Clouseau, to be played by Martin, to catch the thief who has been stealing artefacts around the world.
The film has been slated for a February 2008 release.
Rai's other Hollywood film, 'The Last Legion, in which she starts alongside Ben Kingsley and Colin Firth is scheduled to be released in the US later this month.
News of her new role came as it was revealed she will be the first Bollywood wax work to appear at New York's Madame Tussauds.
To celebrate the 60th Independence of India and Pakistan Madame Tussauds in Times Square has had Ash's London waxwork specially flown over.