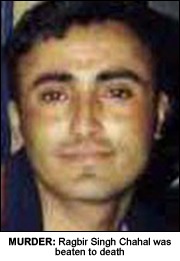 A MAN has been charged by police after an Imam was seriously attacked at London's Regent's Park Mosque.
The man, 40-year-old Ryan Donegan from Hammersmith, was detained and charged with GBH following the attack on Friday.
The 58-year-old imam, who has not been named, underwent surgery following what has been described as a 'brutal' attack.
Police were called to the Mosque, also known as the Islamic Cultural Centre, at 8.30am on Friday to reports that a man had been attacked on the premises.
The imam was rushed to a central London hospital where he underwent surgery. He had suffered heavy blood loss and had extensive damage to both eyes.
While the police confirmed that the man had not been charged with a racially aggravated offence, Dr Ahmad Al-Dubayan, Director General of the mosque, had no doubts that the attack was religiously motivated.
He told the Muslim News: "This was an Islamophobic attack". He said the man had entered the premises and had told the Imam he wished to convert to Islam before launching into the vicious assault.
The assault comes after an increase in attacks against Muslims and mosques since the recent failed car bombings in London and at Glasgow airport.
The Muslim Council of Britain blamed this assault and a similar attack at a Bradford Mosque last week on the media saying they have been "playing a key role in fomenting much of this Islamophobic prejudice and hatred against British Muslims".
A spokesperson for the MCB said: "In recent weeks we have heard of several similar incidents of violent attacks against Imams and mosques across the UK, including a daytime arson attack on a mosque in Bradford last week where many children had gathered for prayers.
"There is clearly a growing anti-Muslim climate in this country and it has some very worrying implications for all of us. It is deeply regrettable that sections of our media have been playing a key role in fomenting much of this Islamophobic prejudice and hatred against British Muslims," said a spokesperson at the Muslim Council of Britain."
The organisation urged Muslim institutions to "liaise with their local police to discuss any safety concerns that they may have", and called on the media to "adopt a more responsible attitude in their reporting to ensure that whole groups and institutions are not unfairly vilified."