 Honorary doctorate for Bollywood star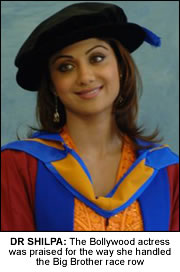 BOLLYWOOD star Shilpa Shetty became a 'Dr' yesterday after she was privileged with an honorary doctorate from Leeds Metropolitan University.
The actress who shot to fame in the UK after her infamous stint in Celebrity Big Brother earlier this year was at the graduation ceremony at the University to accept her Honorary Doctorate for Outstanding Contribution to Cultural Diversity.
The University opted to honour Shilpa as part of its commemoration of the 60th anniversary of Indian independence next month.
The actress was praised for the way she handled the Big Brother racism row in which she was subjected to a torrent of abuse from Jade Goody, Jo O'Meara and Danielle Lloyd.
Vice Chancellor Professor Simon Lee said the actresses handling of the row showed "great dignity and poise".
Addressing the graduands he said: "There are some parallels between the challenges faced in any house and student life.
"Someone at some time will behave badly, not necessarily to you but to others or the wider community, to someone or some group who cannot defend themselves.
"In Shilpa Shetty you are graduating with someone who rose to that challenge with great dignity and poise, making a difference."
Speaking about the honour, an overwhelmed Shilpa said:  "I am sincerely grateful and humbled by the honour that such a prolific academic institution has so kind heartedly presented to me.
"I have utmost respect for Leeds Metropolitan University for its constant strive for cultural diversity and representation through the rich programme of study that it offers, ensuring that people from all walks of life are equally represented.

"Education and knowledge are the tools we pick up while we're growing and they last a lifetime. Leeds Metropolitan University gives those tools to thousands of its alumni and I'm proud to join those alumni as an honorary graduate from this university and that too as a doctor. No filmmaker has been so bold as to give me the role of a doctor in any of my films but you managed to do what even the magic of cinema hasn't!"

Shilpa also encouraged the university to "keep teaching future generations and making tomorrows pioneers today." "It is with great honour I humbly accept this doctorate and thank you from the bottom of my heart."

Shilpa Shetty joined the ranks of other luminaries of Indian cinema, such as actors Amitabh Bachchan, Shabana Azmi and filmmaker Yash Chopra, who were also recently presented with honorary doctorates by the institution at the IIFA Weekend that took place in Yorkshire last month.