 Asian star Manjit on the joys of Music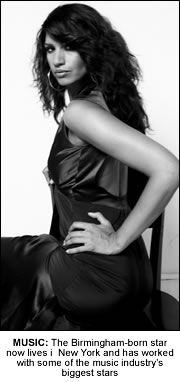 Infused with soulful and diverse influences from artists such as India Arie, Tracey Chapman, Sade and Lata Mangheskar – Manjit, a talented singer songwriter, recently released her latest EP – 'the acoustic ep'.
Somewhat unknown to UK audiences, this creative artist has been flying the British flag in the US for some time. Originally from Birmingham, and now living in New York, Manjit has been receiving great appreciation for her work. She's worked with some of the best – Jay-Z, Yoko Ono, Aurellius Seven who is famed for working alongside Ashanti and Mary J Blige, and Fanatic who has links with Beyonce and Michael Jackson – and has been described as one of the up and coming Asian artists of 2007.
We caught up with Manjit at her New York hideaway to find out just how this Birmingham girl made it onto the musical airwaves of New York.
You're relatively unknown in the UK – tell us a bit about yourself
I'm a singer songwriter and I also play piano and a little guitar. I've been professionally doing music for 7 years now and love it. There's nothing that I love more than writing and making music and singing live. At the moment I've been doing a lot of acoustic shows to promote the acoustic EP that I have on sale at itunes. I also produce, arrange and write for other artists.
Where did your musical inspiration come from?
My first musical influence was the old black and white Hindi film music my mother listened to like Lata, Asha Bholse. I grew up imitating her singing Hindi movie songs. I prefer the older music to current Hindi songs, which can sound too westernized sometimes. My favourite movie score is Pakeezah.
I've always loved R&B, pop and hip-hop growing up and was a crazy Janet and Michael Jackson fan. I love artists like Sade, India Arie, Norah Jones, Desree, Tracey Chapman, Maxwell, Stevie Wonder and Lata Mangheskar. I have so many influences and like so may different styles of music but I think these artists contribute more to how my music may sound.
You mention your family in an article I've come across where you talk about how they've come around to you being in the music industry. Was it difficult starting out knowing your family wasn't 100% fully behind your decision to become a singer?
I used to be SO mad at my Dad, when I asked him if I could take dance lessons he literally told me to get out of his house because there would be boys there too. He even told me I couldn't take singing lessons from a neighbour because he was an older man. They were being the typical Asian parents but I know it's because I am their only daughter and they love me and wanted to protect me. I think they were also afraid that it would affect my education. Now I have their support, they see that music is my passion and soul and it's what makes me happy.
You're originally from the UK – What made you move to America?
For some reason I have always had an obsession with the US. I came to New York for a visit and after that knew I had to live here. It's funny because I when I was in Birmingham last year, my Mum took me to a pandit and the first thing he said was "It's not her destiny to live in this country". I laughed so much because my Mum was rolling her eyes hoping I will come back home and get married!!! I love New York because I am in the middle of everything and I can walk everywhere.
You've worked with some of the biggest music names, most notably hip-hop maestro Jay-Z. How did that come about?
I met Jay Z when I first moved here. He would call me "humming bird" because I'd always be humming Lata Mangheskar songs. One day a mutual friend of ours came by my house to listen to music and took a CD of songs I did, one of which was 'Tum hair merey Mundair' which I recorded over a DR Dre beat. Jay played it in his car in a garage whilst getting petrol and three Indian guys came up to him and asked him where he got the song. He then told his friend to bring me to the studio the next day and we recorded an amazing record together. It was supposed to be the first single from the 'Blueprint2' album but due to politics, it didn't happen..but everything happens for a reason and I knew I had to be true to myself and make an album of true stories that really resonated with my soul. It led to a lot of great opportunities, doing several mixtapes and singing Indian hooks over hip-hop beats.
Many singers use their songs to sing about personal/life experiences. Do you draw on your history/culture in your songs?
I definitely use my culture and history as the ideas behind my songs. I have a song called 'Motherland', which is about how I have always wanted to go back to India as I hadn't been since I was 7. It speaks about the importance of remembering where you are from and to never forget the beauty of our culture. I write a lot of songs with true stories and meaning, I like to touch listener, lyrics are very important to me.
Do you have any plans to bring your sound to the UK?
I definitely will be releasing the album in the UK. I think Europe is a bigger market for me than anywhere else. It's funny because a lot of French radio stations more than any other country reach out to me on myspace and ask me to send them music to play on air…which is great because my older brother lives there.
Finally, what have you got lined up for the rest of 2007?
This Summer is all about meeting with all the labels and finishing the record. I have about 40 songs and I'm going through all the songs and deciding how to shape the album. I'll also be performing a lot more and formulating a game plan to release the album….a lot of hard work but I'm happy and enjoying the journey.
'The Acoustic EP' is available now to download via itunes.
Interview by Zakia Yousaf