 Sunderland swoop in £5m deal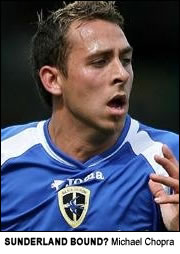 MICHAEL Chopra is on his way back to the Premierhsip after reportedly signing for newly-promoted Sunderland.
The 23-year-old scored 22 goals for Cardiff City in the Championship last season and will return back to the north-east following an earlier spell with Sunderland rivals Newcastle City.
Sunderland boss Roy Keane turned his attention to Chopra after missing out on Preston North End and England striker David Nugent who is set to join Portsmouth in a £6m deal.
Cardiff City boss Dave Jones said the club could not stand in the way of Chopra's desire to play in the Premiership.
He told the South Wales Echo: "I am sorry to see him go, everybody in the camp is. But there is a price for every player.
"The money could go on to make us stronger. This is good business for us and after all, we are in a business. And for Michael it means Premiership football. We cannot stop him. We wish him all the best with Sunderland."
Chopra signed for Cardiff from Newcastle in a £500,000 deal last year and was also the first British Asian footballer to play in the Premierhsip when he made his debut for Newcastle United in May 2003.