 How one woman is breaking down cultural barriers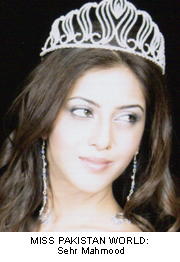 When Mariyah Moten represented Pakistan at the 'Miss Bikini of the Universe 2006' in China in August this year it was seen as a step forward for a predominantly hard-line country. While some reacted with anger and fury there were others who saw the step as a victory for modern Pakistani women actively challenging conservative Islamic views.
Where 96% of the population is Muslim, Pakistan is notorious for taking a hard-line approach on the role of Muslim women across society. In sport for example, Indian Muslim tennis player Sania Mirza has in the past come under fire from some hard-liners opposed to her tennis wear, while generally there is a strict ban on men in any all-female sports events.
Across other areas, the country's hard line Islamic parties sought to ban women across all forms of advertising last year – a move they claimed would strengthen the nation's Islamic identity. 
But one woman going head to head with the country's conservative Muslims is Sonia Ahmed, president of Miss Pakistan World, an organization she says will "remove the fundamentalist views out of Pakistan".
Based and run in Canada the organization, which began life in 2002, may be many moons away from successfully holding a beauty pageant in Pakistan itself, but its stance against religious hard-liners has courted both controversy and support.
Over the past year the organization, which also comprises Miss Canada Pakistan Inc., has entered six international pageants and attained four international titles since its inception in 2002 – a statistic that that goes along way in showing there is a burgeoning market for beauty pageants in the Pakistani community.
In the same year that saw the inaugural Miss Pakistan World contest take place, a government minister in Pakistan tried to bar a contestant from wearing the Miss Pakistan sash in a separate event, and in her native Canada, Ms Ahmed has in the past had to bear the brute of negative backlash to the contest from the country's conservative Islamic groups.
Speaking to The Asian Today, Ms Ahmed said she holds little regard for those who bear negative attitudes to her organisation.
"
Negativity has always surrounded us, especially from fundamentalists existing in our communities", she says.
"We had to answer to religious fanatics and the so called self promoted community leaders, and we did and we put them in their place. Now the pressures are off, and these fundamentalists now know not to come in our way, and as time passed their numbers dwindled down as well.
"These people are a bunch of empty vessels that have learnt over the years to make a lot of noise, and before they used to be successful, but today, I can say they hold zero meaning to people like us."
She says her organization is pivotal in not only challenging hard-line views in Pakistan, but is also an outlet for talented Pakistani women across the world.
"
The only reason Miss Pakistan World came into existence was because there was no beauty pageant existing in
Pakistan", she says.
"The reason behind an idea like this was to create a pool of talented Pakistanis all around the world. The other thing was that Pakistani girls had a lot of talent, some could dance, some could sing, most of them wanted to become models, but all this was not possible since there was no platform for them to be showcased and hence, Miss Pakistan World was put together with the support of these young women."
Since 2002 the show has received on average of between 50-60 applicants each year from across the world, including the UK.
Only 15 are chosen to proceed to the main event and with audience show members exceeding 600 each year, the contest is getting bigger each year. Winners have included
Sonya Zia, the youngest contestant to win the coveted prize at 17, current Miss Pakistan World Sehr Mahmood, who is a British national, and Mariyah Moten – a name that made headlines in August when she was publicly slammed by
Culture Ministry official Chaudhry Hafeez after winning the 'Best in Media' title at the 'Miss Bikini of the Universe 2006' in China.
Moten, who has dual American and Pakistani nationality, was under investigation following her triumph, according to Reuters, who quoted Chaudhry Hafeez as saying "We have asked our mission in Washington and Beijing to investigate this because it is against our policy, culture and religion".
At the time Moten stood her ground and proudly proclaimed she was "breaking down barriers" and was not fazed by the controversy surrounding her entry.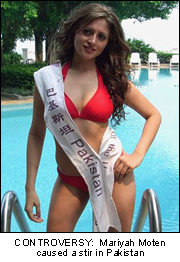 Ms Ahmed also remained defiant despite protests from Pakistan saying she was "proud" of Moten's achievements. "
Mariayh Moten has won two titles and we will always be proud of her", she says. "She is the first Miss Pakistan Bikini for the year 2006 and now the next Miss Pakistan Bikini will be ready for the year 2007. There was no risk involved at all, instead I traveled with her at the Miss Bikini Universe 2006 pageant and along with the other delegates from the various countries we had a lot of fun and enjoyed the entire pageants and its competition."
Current Miss Pakistan World, Sehr Mahmood, is also hopeful Pakistani entrants in beauty pageants across the world will become a growing norm. A British national, Sehr, 25, is hoping her crowning glory will lead her to the bright lights of the Pakistani film industry. But putting personal goals aside, she reveals a desire to help bring about changing views in Pakistan on the beauty pageant.
At the recent Miss Earth 2006 pageant in Manila she said her objective was to "educate people and other delegates about Pakistan, and to let them know that Pakistan is becoming a very modern country and to remove any misconceptions". She adds: "I was in Manila on the one and only mission to educate the girls who are coming from different countries in the world about Pakistan and the true people of Pakistan. "Pakistan is not perceived in the right way in the world and it's because of these extremists and so called pseudo intellectuals. This is what we want to change. And we are successful year after year. For the Miss Pakistan world company to win 4 international titles is a major thing.
"We competed with hundreds of countries without a strong background in pageantry and we still won. So that shows that we can do better in the future."
For both Sonia Ahmed and Sehr Mahmood, there is the hope Miss Pakistan World can successfully challenge negative views thrown at it from Pakistan.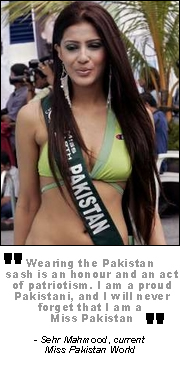 For Sehr wearing the green Pakistan sash is an "honour" and an act of "patriotism".
"I am a proud Pakistani, and I will never forget that I am a Miss Pakistan", she proudly proclaims.
And for Sonia Ahmed, the organization which she started to showcase the hopes and achievements of modern Pakistani women, has a bright future.
"The future is bright; we are all young individuals who have a lot of energy and dedication for bringing out the name of Pakistan and portraying the new generation as hip, trendy and educated", she says.
"We have introduced the first Miss Pakistan Bikini in Mariyah Moten, the youngest Miss Pakistan a 17 and a half, Sonya Zia, who just recently came from Korea participating in World Miss University, we have Sehr Mahmood, Winner of Miss Pakistan World 06, at the Miss Earth pageant and now we have Miss Internet Pakistan, Shaifa Chandani .
"Together this year we have entered six international pageants, and have attained two international titles already. So the future has countless opportunities."
By Zakia Yousaf
Related Articles: