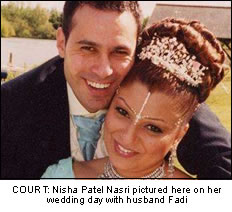 THE HUSBAND of a special constable stabbed outside her house has appeared in court charged with her murder.
Fadi Nasri, 33, was charged with his wife's murder along with another man, 37-year-old Roger Lesley.
29-year-old Nisha Patel Nasri was stabbed in the leg by an attacker outsider her house in Sudbury Avenue
Two other men already charged with Mrs Patel-Nasri's murder are Tony Emmanuel, 41, of Clements Road, East Ham, east London, and Jason Jones, 35, of Hathaway Crescent, east London.
They are next due at the Old Bailey on March 16.
Mrs Patel-Nasri, 29, died after being stabbed in the leg by an attacker outside her home in Sudbury Avenue, Wembley, north west London, on May 11.
It is still unclear whether she had gone outside in her nightdress that night to investigate a disturbance, or whether she found someone in her house. The motive for the attack on Mrs Patel-Nasri has always been unclear.
She was killed with a distinctive 11.8in (30cm) John Lewis Evolution cook's knife which was missing from a block set in her kitchen after the attack. It was later recovered by police and found to carry not only Mrs Patel-Nasri's DNA, but also that of her suspected attacker.
Mrs Patel-Nasri had been a special constable for three and a half years.