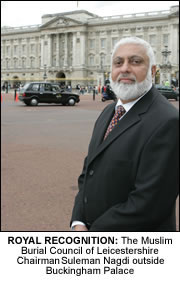 A MIDLAND charity that offers support and help to grieving Muslim families organising funerals for their loved ones has been honoured by the Queen.
The Muslim Burial Council of Leicestershire, which has served the city's Muslim community for the past 12 years, enjoyed a royal reception at Buckingham Palace yesterday after they were honoured with a prestigious Queen's Award for Voluntary Service.
The organisation was set up 12 years ago by Suleman Nagdi to address the need for burial and bereavement services for the Muslim community across Leicestershire.
It is one of 71 organisations to be honoured this year as part of the Queen's Award for Voluntary Service for their commitment to the local community.
The group's chairman, Suleman Nagdi MBE, said: "This award recognises the vital role played by the unsung heroes of the voluntary and community world and emphasises the importance of recognising volunteers and their work."
Phil Hope, Minister for the Third Sector, said: "The Queen's Award for Voluntary Service recognises truly exceptional achievements. I know that for the recipients the greatest reward is seeing their efforts enrich the lives of others. But we as a society should never forget to thank them because it is their extraordinary passion and dedication that underpins communities across the country."
If you know a volunteering group that are really making a difference to your community, then nomination forms for the 2008 Queen's Award for Voluntary Service are available from
www.queensawardvoluntary.gov.uk
 or by calling 0845 000 2002.
The nomination period runs until 30 September 2007.