 Tribute book on offer for fans of Ash & Abhi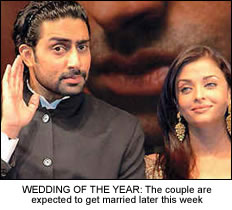 UK BOLLYWOOD fans will get the chance to send their own personal wedding messages to stars Ashwariya Rai and Abhishek Bachchan at top London tourist attraction Madame Tussauds.
The world-famous waxwork museum have put together a special tribute book for fans of the duo wanting to send them messages of support for their forthcoming marriage.
The couple, who were in London recently for the British premiere of Ash's latest film 'Provoked' are expected to get married in a low-key wedding later this week.
Madame Tussauds have tapped into the Bollywood market with waxwork model's of Ash, her soon-to-be father-in-law Amitabh Bachchan and more recently Shah Rukh Khan.
And to celebrate what has been billed as the wedding of the year, bosses at Madame Tussauds have put the waxwork figure of Ash side-by-side with her future father-in-law.
A spokesperson for Tussauds said: "Visitors to Madame Tussauds London will have a golden opportunity to wish the bride-to-be congratulations with floral tributes, as her figure now stands side by side with her soon to be father-in–law Amitabh Bachchan.  
"A special tribute book has been placed by the star."
The book will eventually be sent to the couple in India.