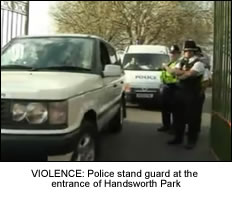 A MAN is today fighting for his life after he was stabbed three times in a Birmingham park where hundreds has gathered to celebrate the Sikh festival of Vaisakhi.
Police were forced to close Handsworth Park, on Holly Road, which was staging the event, more than three hours early after fighting broke out.
More than nine ambulances rushed to the park where paramedics stabilised a 44-year-old man who had been stabbed three times in the chest.
He was rushed to hospital where he remains in a critical but stable condition.
Police were on high alert after the incident, which they are treating as attempted murder, and were called out to further disturbances away from the park as the violence spilled out into surrounding streets.
The festival, which is marked annually to celebrate the Sikh New Year festival of Vaisakhi, has passed off peacefully in previous years and has become one of the regions biggest Sikh events.
The celebrations began early in the morning when two processions, one from Smethwick to Handsworth and the other from Lozells to Handsworth, passed off with minor trouble.
Five people were arrested for a number of offences including affray, weapons and drugs offences and actual bodily harm.
But as more than 75,000 people enjoyed the warm weather later in the day at Handsworth Park police rushed to another part of the park after reports that a major fight had broken out.
Up to 10 people suffered injuries and were rushed to hospital. Others were treated on the scene.
An ambulance spokesperson said violence had spilled out into nearby roads and they were still answering 999 calls four hours after the initial incident.
The Asian Today's Anita Chumber who attended the event with her two young children said people were "fleeing in terror".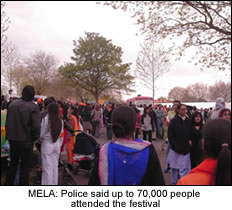 "People were confused at first but then word began to spread that people were fighting with swords in another section of the park. There were people all around just fleeing in terror", she said.
"I managed to get out of the park before police closed the gates but it took more than an hour for my husband to get out. It was a very frightening experience for my children.
"I have attended the festival for a number of years now and have never come across anything like this before. I will definitely think long and hard about coming next year if police allow it to go ahead."
As organisers and police spend the day discussing what went wrong at the event, there was some criticism at the way the large-scale event was handled.
Despite strict notices on posters advertising the event banning smoking and alcohol at the family event, Anita Chumber said she came across a number of drunk people at the park.
"This was billed as a family event with a ban on smoking and alcohol but I came across hoards of empty beer cans throughout the park. I'm not sure whether it was the organiser's or police's responsibility to ensure no alcohol was brought into the park but whoever had that responsibility failed miserably."
The organisers of the Vaisakhi mela were not available for comment.
Detective Superintendent Mick Treble, head of the Major Investigation Unit said:" We had liased with the event organisers and a lot of planning and preparation went into this event.
This was an event which was marred by a small criminal minority and this was a sad ending to what should have been a day of celebration for the estimated 75,000 people who attended the Vaisakhi celebrations yesterday."
He added it was imperative that people should not take matters in their own hands and urged anyone with information to contact police.
Four men have been arrested in connection with the incident and are currently being questioned by police.
Anyone with information is urged to contact the Major Investigation Unit at Acocks Green police station and ask for Operation Santorin on 0845 113 5000.
Were you at the Vaisakhi Mela? What are your thoughts on yesterday's events?
E-mail your views or pictures to zakia@urbanmedialtd.com