 Actor Rahul Khanna latest star to front drive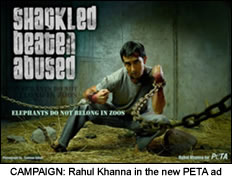 POSING next to the tagline "Beaten, Shackled, Abused- Elephants Don't Belong in Zoos," actor Rahul Khanna has become the latest in a long line of Bollywood stars fronting an anti-animal cruelty campaign in India.
In the ad the Bollywood actor is shown shackled in chains, with bruises painted onto his body. The ad has been shot by top photographer Colston Julian, and was commissioned by Indian charity People for the Ethical Treatment of Animals (PETA).
The charity have always had the backing of major Bollywood stars – evident in a history of poster campaigns featuring Big Brother winner Shilpa Shetty, and fellow actors John Abraham and Suneil Shetty.
Anuradha Sawhney, chief functionary for PETA India, said celebrity backing was essential for the charity in getting their message across.
"It's a simple fact. When a celebrity speaks, people listen," he told Reuters.
"Every time a celebrity speaks out for a cause, be it for animal abuse in circuses, or their conditions in zoos, or the suffering in factory farms, a lot of compassionate people come forward to find out how they can help."
Their latest ad campaign focuses on elephants in captivity.
A spokesperson for the charity said recent events had led them to tackle the issue.
"Last year, Mumbai saw the death of an elephant named Laxmi who was hit by a speeding tanker. Because proper medical attention could not be provided, Laxmi suffered with a broken leg and spinal injuries before dying a day later", the spokesperson said.
"Another elephant in Mumbai, was frightened by a fire cracker and fell on a car. The mahout fled the scene and the elephant rampaged. According to media reports, an entire platoon of SRPF and 60 police personnel were called in to subdue her."
The charity said many elephant owners in the country admit to not being able to afford the relevant amount of food and water consumed by elephants on a daily basis.
"Zoos cannot provide for the complex needs of the animals who they hold captive," actor Rahul Khanna said.
"These majestic animals belong in the wild, but instead they are locked up like criminals even though they've committed no crime. A more respectful way to observe these animals is through the fascinating wildlife programs available to everyone on TV."
Elephants are a protected and endangered species in India, which has nearly half of the world's 60,000 Asian elephants, but activists say more than 3,500 elephants remain in captivity in the country.