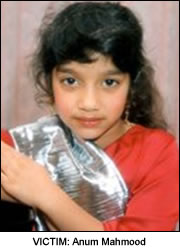 A BRADFORD shop worker who brutally assaulted and killed a Birmingham schoolgirl could be released in seven years time, a High Court judge has ruled.
Abbas Shabir Ali was sentenced to life for the violent murder of 13-year-old Anum Mahmood in April 2003.
Ali, who was 20 at the time of the murder, sexually assaulted and beat the youngster, from Sparkbrook, Birmingham, to death after she spurned his advances in June 2002.
But High Court judge Mr Justice Pitchers said Ali could walk free in seven years time after his tariff at the time of sentencing was set at 12 years.
Ali may now be able to apply for parole in seven years time and if officers decide he poses no risk to the public, he will be freed despite new recent tougher sentencing guidelines having been put in place.
Under these new guidelines Ali could have faced a tariff of 30 years because of the brutality of his crime.
High Court judge Mr Justice Pitchers said his hands were tied by the law and could not impose a tougher sentence because the offence took place in July 2002, and the maximum tariff Ali could receive, once his age, good character and "mental limitations" were looked at, was 12 years.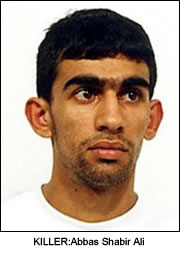 Anum, who was visiting Bradford with her family and close relatives following the birth of a baby cousin, was found semi-naked in an alleyway in the Bankfoot area of the city.
At his trial, the jury was told Ali, who lived next door to the family Anum was staying with, sexually abused and repeatedly hit the youngster on the head with a large stone after she resisted his sexual advances.
He also strangled her with her own scarf and fled the alleyway moments after the brutal murder. Young Anum's body was found by two members of the public.
At the trial Ali had claimed Anum flirted with him and described her death as a "horrible accident". He claimed he had tried to leave Anum in the alleyway but she would not let go of his tracksuit bottoms. He added he picked up a large stone but it slipped out of his hands and fell on the youngster.
But with overwhelming evidence, he was convicted of murder by a jury at Birmingham Crown Court and sentenced to life imprisonment.