 Bollywood Interview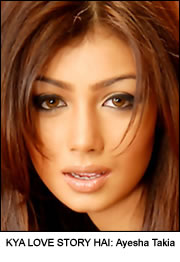 Not only is she endowed with a pretty face, the most charming smile and a candid demeanour, Ayesha Takia is also one of the most talented newcomers around. With several awards in her pocket as the most promising newcomer and more recently for her scintillating performance in Dor, the young actress is on a firm ground.  

Here the chirpy Ayesha talks about her soon-to-be-released film Kya Love Story Hai, a breezy love story by debutant director Lovely Singh, out on April 20.
After an intense film like Dor how was it working in a love story like Kya Love Story Hai?
I consider myself very lucky to be doing a good balance of films.
Dor
was very demanding emotionally, and had drained me completely. I am extremely proud of
Dor
. Working in Kya Love Story Hai was fun! I enjoy doing love stories! In this film, I play Kaajal a young and vivacious today's girl who has a firm value base. It's rejuvenated me!                          
What is it about Kya Love Story Hai that will draw the audiences?
It is a love story and love is a universal sentiment! Love stories always find a universal audience. Love is an integral part of every individual's life. One is either in love or is waiting to fall in love. So everyone will connect with Kya Love Story Hai. I am a very romantic person myself!
What is so special about Kya Love Story Hai?

I think its strength lies in its simplicity. It's a simple love story that has been treated and executed very well. The film's director Lovely Singh has kept it very close to life and made it as real as possible. It has brilliant music and with Cape Town as the backdrop, its beaches and landscapes have given the film a unique and exotic flavour.

 
You are looking exceptionally striking in Kya Love Story Hai
It is all thanks to Manish Malhotra! He went out of his way to experiment and give me this look of a very vivacious and sprightly girl. Though the chic dresses and cool tops are not clothes I would wear in real life, I really enjoyed wearing them for Kya Love Story Hai.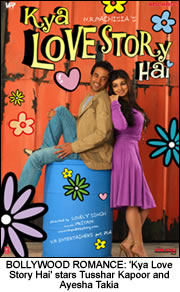 How was it working with your co-star Tusshar Kapoor? It's your first film with him!

I found Tusshar to be one of the most uncomplicated and easy persons to work with. As an actor he is extremely hard working, and dedicated to his craft and gets involved with every aspect of the film. As a person he is great fun. Like me, he is a 'foodie' and we had a great time gorging on exotic sea food almost every day of the shoot!  
The sensational song It's Rocking Yaara Kabhi Ishq To Karo……picturised on Kareena Kapoor is a huge, huge hit.  Do you ever wish it had been picturised on you?

I have set a few rules for myself. Not doing item numbers is one of them as I am not comfortable wearing the kind of clothes one has to, for these numbers. But yes, Kareena is looking gorgeous and I am very glad that people love it and it is high up on all the music charts!                           

 
The music of Kya Love Story Hai is very young and foot-tapping. Which is your favourite track?
I love all the tracks of the film. Pritam has done a great job. But
Jeena Kya Tere Bina
is the one I can listen to again and again. When shooting for the film we were in Cape Town for 40 days and I was missing my boyfriend Farhan. This song echoes my sentiments I felt at that time!  
What are your expectations from the film?
I have great expectations from Kya Love Story Hai. It's a sweet and emotional romance for families! You'll come out with a smile on your face!
Expecting any awards this time?

It's great to get them, but I don't take up a film hoping I will get an award for it. My award is the people's appreciation of my work!

 
Kya Love Story Hai releases in the UK on April 20 
Related Articles: