 Madame Tussauds unveil new Bollywood addition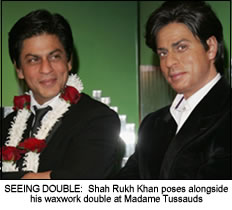 HE'S Bollywood's biggest heartthrob who probably has more fans than Elvis, and now those die-hard followers of Shah Rukh Khan can finally get up close and personal to their idol…at Madame Tussauds!
The London tourist attraction unveiled their latest addition yesterday and the man himself was there to come face-to-face with his life-like double.
The 41-year-old, who arrived at the waxwork museum with his wife Gauri, dedicated his waxwork to his late mother.
"Like all mums, my mum felt that I would be in Madame Tussauds one day," Khan told Reuters in an interview at the venue.
"She thought I was very good-looking, and she thought that it was enough criteria to get to be here. But I wish she was alive, for her it would have been very important.
"I never visited Madame Tussauds, because somewhere deep inside my heart I felt I would come here when my wax work was here. So it is a cherished dream for my mum and for me and it has been fulfilled."
The Shah Rukh Khan waxwork is the third Bollywood waxwork to grace the London tourist attraction, alongside Amitabh Bachchan and Aishwariya Rai.
But while his fellow waxwork Aishwariya Rai has broadened her horizons outside of Bollywood, India's biggest movie star said he was happy sticking to the film studios of Mumbai.
"It is not my wish to go to Hollywood, it has to be the wish of Hollywood to decide," he said, when asked if it was his ambition to break into the U.S. film market. Few Asian stars have managed to appeal to audiences in both regions.
"They (Hollywood) are bigger than us, they are the bosses," added Khan. "So unless they want to employ us, we are nobody to be sending our resume there and hoping we get a job. But I am very, very happy doing what I do."