 News of the World in trouble over Shilpa story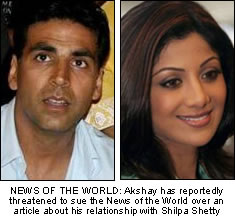 BRITISH tabloid The News of the World may have got itself in a bit of bother after Bollywood action hero Akshay Kumar reportedly threatened to sue for slander following an article on Big Brother winner Shilpa Shetty.
It's no secret Akshay and Shilpa were an item before he moved on and married fellow actress Twinkle Khanna.
But it seems a 'pal' of Akshay's been a naughty boy and spilled secrets to the paper about Akshay and Shilpa's…uhummm…love life!
The so-called friend told the paper Akshay told him: "I was the first to bed Shilpa" and "She made me wait before she let me sleep with her."
The tabloid further goes on to give explicit details of Akshay and Shilpa's personal relationship together.
A peeved Akshay was said to be livid over the article and was quoted by an Indian newspaper threatening to sue the publication.
I will never talk about a lady in those terms, this is totally baseless, I've never spoken to the said newspaper and I will seek legal recourse," he reportedly said.