 Doping ban overturned for Pak duo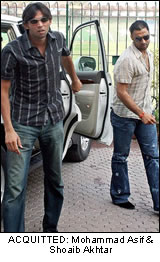 PAKISTAN bowlers Shoaib Akhtar and Mohammad Asif have been acquitted of doping charges by a three-man panel who voted 2-1 in their favour.
Both Akhtar and Asif had appealed against an earlier decision to ban them for two and one years respectively after random blood tests undertaken by the Pakistan Cricket Board (PCB) found high levels of banned substance
nandrolone.
But at an appeal hearing headed by Justice Fakhruddin Ebrahim, two of the three man panel voted in favour of the cricketers.
Both Ebrahim and former Test cricketer Haseeb Ahsan voted in favour of the acquittal while, Danish Zaheer voted against.
A judgement released by the group gave reasons for the decision which cited concerns over both the workings of the committee that banned the two players, as well as the PCB's role in anti-doping.
Citing the previous committee which handed down the bans on both players, the judgement raised concerns over the way it operated saying that while it was working within the jurisdiction of the PCB, the bans handed down were based on ICC anti-doping regulations.
The panel also questioned the PCB's role in educating its players about the dangers of taking supplements or nutrition's which may contain banned substances.
"It is plainly evident that neither Shoaib Akhtar nor Mohammad Asif were ever warned or cautioned against taking supplements," the judgement read. "Hence, this committee is of the considered view that both players have successfully established that they held an honest and reasonable belief that the supplements ingested by them did not contain any prohibited substances."
A relieved Akhtar, who had pleaded his innocence throughout the affair, said he had lost sleep through worry after the original two-year ban was handed down.
"I am breathing again; my life was jolted no-end by the ban. I can't describe the feeling," said Akhtar, whose career looked over following the ban
"I was so disappointed that I was not sleeping properly. I am thankful to the Almighty, and to the Pakistan Cricket Board chairman Dr Naseem Ashraf, to give both of us a proper chance to fight the ban."
He said he would now concentrate on getting back into the Pakistan team.
"I missed playing cricket for my country and now I hope that I will resume my career. The whole team had supported me and I am thankful to my teammates and every cricket lover who prayed for me."
23-year-old Asif described the past few months as the "worst of my life", adding he was grateful for the support of captain Inzamam-ul-Haq and coach Bob Woolmer
"I hope the bad days are over now. I badly want to play and it was only through the support of my captain Inzamam-ul-Haq and coach Bob Woolmer that I kept myself going," he said.
Related Articles