 'I cherished every moment of Don'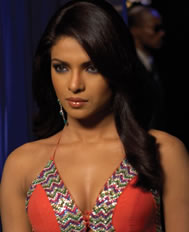 She's been tipped as one of bollywood greats' for  avery long time. This month Priyanka Chopra may just live up to that expectation when she stars opposite Shah Rukh Khan in the eagerly anticipated re-make 'Don'.
But is the pretty Bollywood starlet fazed by the attention? And just what was it like starring opposite the delicious Shah Rukh Khan. Priyanka Chopra reveals all…

How excited are you about the release of 'Don'?
Of course, I'm extremely excited and looking forward to the release! It's among the biggest films of my career and my first with Shah Rukh! Everyone's looking forward to watching it and it's worked out beautifully. I've had a great time working with such a talented bunch of people like Shah Rukh, Ritesh (Sidhwani) and Farhan (Akhtar) and learnt a lot. I cherish every moment of 'Don'.
Recently there was a rumour that you were unhappy about sharing poster space with Kareena Kapoor and Ishaa Koppikar, who've also been given a lot of prominence in 'Don'. Comment.
(Laughs) I've become a favourite with rumour mongers! First they said that I had committed suicide when I was in Adelaide with my aunt! Then someone said that I had been throwing attitude on the sets of another film. Later I heard that I was apparently angry because I had to share the promotional campaign of 'Don' with Kareena and Ishaa. How do you expect me to react? I've been out of India for nearly three months on work. I've been living out of a suitcase! Just because I haven't been in Mumbai for long, people are busy creating controversies. Why would I be insecure of Kareena and Ishaa? I've worked with Kareena in 'Aitraaz' before and we got along well. In fact, she adds to the star set-up of 'Don'. Even Ishaa has done very well in the film. I want to put these baseless rumours to rest once and for all!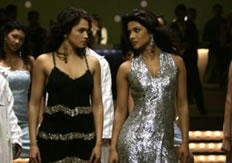 Was it difficult to play Zeenat Aman's character in 'Don'?
That was never my objective. I would never want to imitate Roma the way Zeenat ji did it. People would start comparing us and I would fall short of expectations! (Smiles) I was conscious all through that I had to essay the character of Roma in my own look, way and style. The Roma of the earlier 'Don' is different from the Roma of the contemporary one. I play a martial arts expert in the film and have actually done all the stunts myself! No body double has been used! I had to execute really high kicks! (Laughs) 'Don' will show me in a completely new 'avatar'.
Tell us about some of the stunts in 'Don'?
I have some great stunts in 'Don' and went through intensive training for nearly six months. I've never been so physically involved in a role. I still remember that when I punched someone, it never looked powerful enough. So each time I did such shots, Shah Rukh said, 'Aur thoda manly hoga?' Shah Rukh gave me punching lessons. I kept trying, but I don't think that I managed to do it the way Shah Rukh wanted me to! I think I can never punch like a man, although I tried really hard! (Laughs)
How different is the new 'Don' from the old one?
'Don' was a cult film of its time. Farhan (Akhtar) has given the new 'Don' his own interpretation and perspective. It is more young, cool, contemporary and slick, if you know what I mean. Even the characters have been very differently etched and enacted. I won't reveal much but there are some interesting changes in the storyline as well!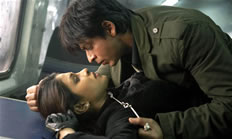 You said you've looked up to Shah Rukh as a kid. And now you've actually worked with him. Describe the experience.

I'm at a loss of words to describe how I felt on hearing that I'd be working with Shah Rukh. He is among the most gifted, passionate and hardworking actors, which is why he is where he is today. I've always wondered where he gets his energy supply from! (Laughs) He is always teeming with life and keeps everyone on their toes. He is so involved in the film and participates on every aspect of it. Farhan (Akhtar) and Shah Rukh would be in a constant discussion mode. It's so inspirational to work with an actor and human being like him! He's always teaching you something or the other.
Tell us something about Shah Rukh we don't know!

He is a hardcore gamer! He loves video games!