 SRK Imortalises a legend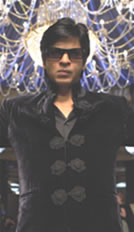 Shah Rukh Khan can be described as the Marlon Brando of Bollywood. From incredibly adorable to viciously ruthless, King Khan can play them all not matter how big or small the part. This month UTV release arguably his biggest film of the year. Amitabh Bachchan made the part his, but on October 20th that part will be taken over by Shah Rukh. Will he pull it off, and can he become one of Bollywod's greatest living actors?
The Asian Today caught up with King Khan to find out what his expectations were of his forthcoming blockbuster… 
Is Don an interpretation, remake, adaptation or an inspiration?
An inspirational tribute would be the right word! Farhan Akhtar was so inspired by the original that he decided to pay a tribute to Don by making the film again… but in his own manner and style!
What prompted you to accept the challenge of essaying the old Don?
I do not want to demean the status of Don by saying that playing this character is not a challenge, but every role I do means some kind of work for me, which I try to do to the best of my ability! As soon as a director or producer comes to me with the belief that I can do a role, and the story appeals to me, I say 'yes'. In that way accepting Don was like agreeing to do any other film. The plus point was that I knew the story a bit, and then it was also my way of paying a tribute to Amitabh Bachchan!
Is it true that there are many unpredictable twists and turns in the story that has not been seen in the original one?
True! So you know that! Farhan has added his inputs and made changes to make it more palatable for today's generation. People who have seen the original film will see something new, and people who have not seen the film will appreciate the fact that there was a cult film like
Don
many years ago.
    For me Farhan's creativeness in making the innovations (like making my character marginally effeminate and more evil than the original) was the main attraction to do the film!
You are always perceived as the quintessential lover. Are you nervous about people's reaction to this action-oriented character?
No! I have been told that I do the same thing again and again in all my films, and have been fooling people for the last 16 years! So I don't think I have anything different in Don! (Laughs loudly)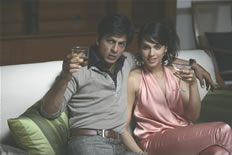 Everyone who has seen the promos, is saying that you are looking sinfully good… you know great style, make-up, attitude, photograph. Tell us about the style and structure of the film.
I am not the one to get into the clothes and look part of the film at all. I leave it to the director and the experts in the field – in this case it's Aki Narula, Adhuna Akhtar and others. But yes, I love my look in the film because when I see the posters – gelled hair and designer glares, they make me look like a superstar! The overall look of the film is also chic, classy and swank!
Your closing shot of exhaling smoke is wicked. How did you do that?
You have to take a lot of smoke, hold it in your lungs and then exhale it slowly. You have to breathe at the same time so that it goes up your nose. But I would tell children, and people who do not smoke, not to attempt this act, and that smoking is not good!
What was the experience of working with a young director like Farhan Akhtar?
When young directors like Ashutosh Gowarikar, Aditya Chopra, Karan Johar, Farah Khan, Sanjay Leela Bhansali approach me to do a film I feel very honoured. More than young I would call them all very accomplished directors, and Farhan is no exception. When he narrated the script of Don to me I sensed how creative and sharp he was from his interpretation of the old script and its adaptation to the new. On the sets he is very discerning and extracts exactly what he wants from his actors.
Kabhi Alvida Naa Kehna and now Don… two diametrically opposite films and characters. Are you hoping for a lot of awards next year?
As an actor it is a very exciting phase for me. My portrayal of a disgruntled husband in the recently released KANK is currently being discussed, I have just finished enacting a don with black shades, and in two months time I shall be working on Shimit Amin's Chak De in which I play a hockey coach. If people recognise my work… wonderful, if I get an award… fantastic! If not, I shall work harder next year.
Are you worried about being compared to the Don portrayed by Amitabh Bachchan?
No! Comparisons are only between equals, and as an actor I don't feel that I am equal to Amitji. Even as a film we are not trying to be equal or compete with the original. We are just trying to recreate and reintroduce the characters of Vijay, Sonia, Kamini etc. which we have all grown up watching!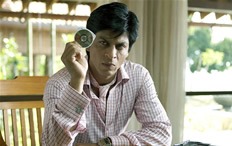 Any burden while doing the songs, 'Khaike paan…' and 'Yeh mera dil yaar ka..'?
No, there was no tension at all while I was doing the steps as I did exactly what my choreographer, Saroj Khan asked me to do in Khaike Paan! But I know we have tried to keep the movements such that they do not take away from the original moves!
How does it feel to wear the title of the new Don?
Good for the moment, but not something to get obsessed with. Don is just a character I have played, not something which will remain with me all the time. My job is to play my part and move on. An actor's job can be best described in one word….CHANGE and I am already getting ready for my next film, Chak De.
Is Don a film your son, Aryan, is looking forward to?
Aryan loves action films, and ever since I have told him about the sky-diving sequences and slick action in Don, he is dying to see me, as I have not done a pure fun 'n' action film for a long time!
What is your message to your fans abroad?
God bless you all, and happiness always!
(UTV will release DON nationwide on October 20 with previews on October 19. For complete cinema listings visit  www.utvmotionpictures.com)