 'Don is Fun, modern and Stylish'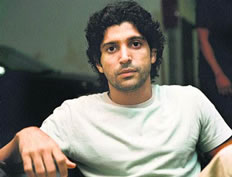 The biggest film of Diwali & Eid is only round the bend now – Farhan Akhtar's much-hyped Don with a posse of stars such as Shah Rukh Khan, Arjun Rampal, Priyanka Chopra, Ishaa Koppikar and Kareena Kapoor is ready to release on October 19 in the UK. Director Farhan Akhtar is gearing himself for the big day. A conversation with the whiz kid:
Is the new Don a remake or a modern interpretation?
Well, let's put it this way – while retaining the essence of the previous film in terms of its basic storyline and characters, I've given it my own perspective. I think that's what people are waiting to see. Everything that's in the film is there because it needed to be there. It's all part of the screenplay. Nothing has been added for pure effect. It will be an exciting film with lots of fun, thrill and adventure. My Don has an identity of its own.
How is it different from the earlier Don?
Like I said, the new Don has my perspective. It's been treated very differently – its look, feel, flavour and styling are all very modern. It has a new set of stars, a new sound, new dialogues and even many unpredictable changes in the storyline, which I can't reveal! It will spoil the fun of watching it! (Laughs)
What prompted you to select Don to remake?
I've grown up watching Don. I think most of us have! It was among my favourites – I loved everything about it – the script, characters, music and performances! It has been a fantastic inspiration for me! It's one of the ways of showing my adoration for Don!
It seems you all had a blast doing the film!
We did. Our shoot in Malaysia was fun. We partied but also worked hard. Shah Rukh looks fantastic in his double role; he's even sung a portion of Khaike Paan Banaras Waala. People are going to love him. Priyanka has actually done the stunts herself and worked hard. We did not use a body double.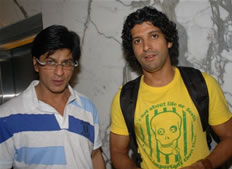 You've worked with Aamir and Hrithik before. Tell us about the experience of working with Shah Rukh for the first time!
I've enjoyed working with Aamir and Hrithik. Shah Rukh is a very approachable and down-to-earth individual. He's very spontaneous, involved and passionate. There's something very magnetic about him! So far he's essayed a lot of romantic roles, so the role of Don was also something he was waiting to slip into!
Tell us about the two classic songs, Khaike Paan and Yeh Mera Dil that have been recreated?
You can't have a Don and not have these two songs! These were an integral part of Don and everyone remembers them. There are several bits in the earlier Don that you can't afford not to have in the new version –the background score, certain dialogues and situations. These songs as well! It would be a crime not to have them in the remake. What Saroj ji (Khan) and Farah (Khan) have done with the new Khaike and Yeh Mera Dil is incredible!
The music of Don is doing very well!
Touchwood! It's been topping all the charts. Shankar, Ehsaan and Loy have worked with me earlier on Dil Chahta Hai and Lakshya. They've done a great job on the soundtrack of Don. It's a tremendous challenge and responsibility especially when the original is a film of the stature of Don! The sound is very contemporary and catchy with a tinge of retro. I think they've achieved something special.
A large part of your film has been shot in Malaysia?
Yes, Malaysia is almost like a character in my film! Our cinematographer, Mohanan, has captured it brilliantly.
Are you worried about comparisons with the original?
Comparisons are inevitable but I'm not bothered! I find comparisons by a section of people very futile and exasperating! If the film has been made with a different perspective, appreciate the perspective. Why compare? Why not see the new version as a new experience? There are members of the audience who haven't even seen the earlier Don or know much about it. They will get familiarised about the old one through the contemporary version. Those who have seen Mr. Bachchan play Don will now be curious to see Shah Rukh doing the same role in his inimitable style.
List three characteristics of Farhan Akhtar's Don?
Fun, today, stylish.