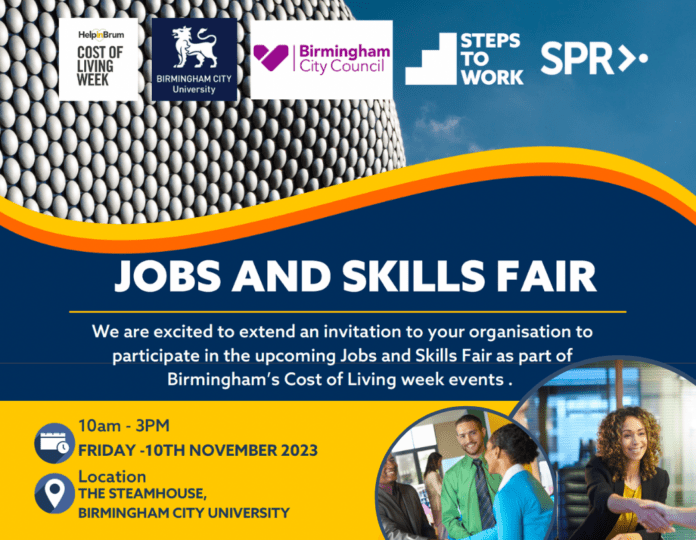 Employment support specialists Steps To Work, based in the West Midlands, have officially announced a strategic partnership with Birmingham City Council for the forthcoming Cost of Living Crisis Jobs Fair scheduled for November 10, 2023.
This collaborative jobs fair is designed to bring together individuals seeking employment opportunities, whether it's their first job, a career change, or simply the next step in their career journey.
The primary objective of this event is to offer a platform for attendees to explore job openings and training prospects, establish connections with employers, and gain valuable insights across a diverse range of industries. Additionally, it will provide essential guidance on navigating the challenges posed by the current cost of living crisis.
Several organisations have already confirmed their participation, representing a spectrum of public, private, and non-profit employers, along with training providers and support agencies.
The venue for the fair will be the STEAMHouse building, conveniently located in Birmingham City Centre, ensuring accessibility for both job seekers and employers.
Professor Paul Cadman, the Group Chief Executive Officer at Steps To Work, expressed the event's purpose, stating, "The Cost of Living Week and Jobs Fair, in collaboration with Birmingham City Council, aims to empower individuals by equipping them with the necessary tools, resources, and knowledge to navigate the job market and address the challenges associated with the cost of living crisis."
He further added, "By fostering cooperation between employers, job seekers, and experts, this event strives to make a positive impact on the local community while contributing to economic growth and development."
Professor Cadman also expressed his gratitude to Birmingham City Council for their partnership, saying, "The cost of living crisis affects many individuals and families within our communities. One effective approach to tackling this issue is to provide increased support and connect people with the right opportunities within the region. This jobs fair embodies that goal, and I am immensely proud that Steps To Work is a part of this initiative."