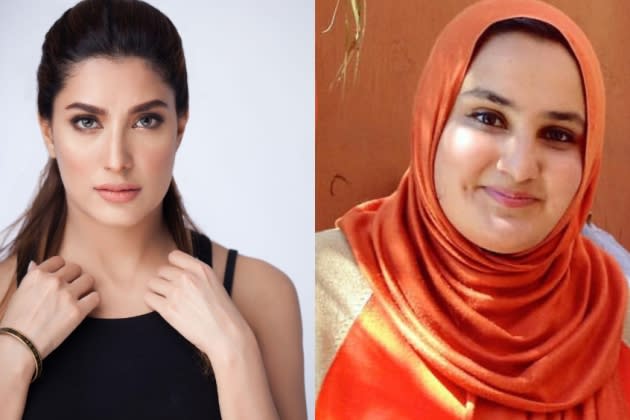 UK Muslim Film is proud to welcome director Lena Khan and actress Mehwish Hayat as its first two patrons of the organisation
Award-winning actor and campaigner Mehwish Hayat and acclaimed writer and director Lena Khan have joined UK Muslim Film to help the organisation challenge stereotypes of Muslims on-screen. UK Muslim Film is proud to announce both Mehwish Hayat and Lena Khan as their first Patrons for the charity and it's initiatives.
Mehwish's decision to support UKMF is a reflection of her personal interest in and her commitment to ensure Muslims depicted on screen are authentically portrayed.
Mehwish Hayat says: "I am honoured to be joining UK Muslim Film as a Patron. Representation of Muslims on-screen is something that I have been tirelessly working to highlight for the past few years."
"Misrepresentation has done untold damage to us and I sincerely believe has fuelled the rise of Islamophobia. With UK Muslim Film, I look forward to working with the industry to make sure that the way that we are portrayed on-screen, if not positive, is at least a lot fairer."
She added "It is equally incumbent on us as Muslims to be telling our own stories. I am excited that UKMF will be supporting emerging Muslim talent and helping them get their work to larger audiences."
Mehwish is one of the most socially active celebrities globally and Pakistan's reigning box-office queen. Hailing from a well-known show business family, Mehwish has widely spoken out about human rights abuses on the global stage and has been particularly vocal about the representation of Muslims in mainstream media for many years now.
Mehwish rose to global attention after playing the character of 'Aisha' in the hugely successful 'Ms Marvel' series.
Acclaimed writer and filmmaker Lena Khan, director of Disney's hit original film 'Flora & Ulysses' and episodes of Netflix's hit series 'Never Have I Ever', also joins as a Patron and UK Muslim Film will be hosting a special pop-up cinema event on Saturday 13th August at Edgbaston to celebrate her work.
She says: "I'm honored and excited about supporting UK Muslim Film and to be having an event focused around my films this month. Besides the fact that they were a heck of a lot of fun to make (and I'm told also fun to watch) — they were made alongside my journey to get to a place in the industry where I can try to fight for truth and representation in this crazy industry. That's why I'm thrilled to be on this journey, and to support UKMF and its efforts toward truthful and authentic representation.
She adds: "Representation in films and television literally changes our cultural landscape — for better or worse. It impacts policy, how we see people, how we operate with each other. And it's not that hard to do. I hope we can continue to expand the scope and quality of how our fellow humans are seen on screen, and enjoy the ride and the stories along the way!"
Lena's own journey is one which UK Muslim Film would be looking to replicate for future generations of British Muslim filmmakers. Lena met UK Muslim Film founder Sajid Varda in Orange County at an event where she was speaking about independent filmmaking and her debut feature 'The Tiger Hunter'. After their initial meeting, Sajid was impressed by Lena's enthusiasm and vision and went on to help with the production of 'The Tiger Hunter', her first feature film, which picked up 4 awards. Varda is now looking to support more debut filmmakers via UK Muslim Film.
Sajid Varda, Founder and CEO, established UK Muslim Film and the upcoming first Muslim International Film Festival to champion creative endeavours by Muslims from around the world.  Sajid is himself an Actor, Producer, Writer and Broadcaster and has worked in the entertainment and media industry for over 30 years, having been cast in roles for both drama and comedy on primetime British television. He serves as a story consultant on several productions.
Sajid Varda says: "We are delighted to have Mehwish Hayat and Lena Khan join us as our first Patrons. Mehwish has not only had an incredible career to date but has been an outspoken proponent for justice. Mehwish has used her celebrity status and global reach to bring light to important issues, such as the way in which Muslims are portrayed on screen.
Lena is someone who I've known personally for many years now and it has been hugely inspiring to see her journey from an independent filmmaker to now working with some of the giants in the industry like Disney and Netflix. I know her story will inspire a new generation of young Muslims wanting to pursue a career in filmmaking.
"We have a great deal of work ahead of us to change perceptions within the media and in particular the screen industries. With the addition of Mehwish and Lena to the team we are incredibly hopeful that together we can 'change the script'."
UK Muslim Film host their first event this month on Saturday 13th August at The Plaza, Edgbaston Stadium. The special 'Pop-Up' Cinema event will be a family day out celebrating the work of Lena Khan with the first ever big screen showing of her Disney+ original film 'Flora & Ulysses' as well as 'The Tiger Hunter'.
For more information and tickets for the event please visit www.ukmuslimfilm.org