Bass Festival curators Aliyah Hasinah and Rtkal have taken this years festival to another level by curating the largest permanent mural in Birmingham, celebrating Future Black icons and influencers of music and culture.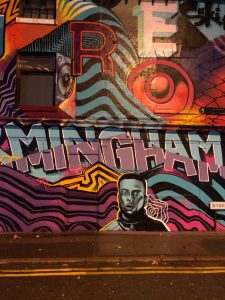 As young artistic entrepreneurs both Aliyah and Rtkal wanted to look forward and reimagine the city with a personal twist. The question was, could they create a list of future black icons in UK's youngest diverse city whilst keeping it very personal to themselves.
Aliyah Hasinah said " We wanted to look forward and have a sharp focus on the creative but not just famous artists, people who we feel are really pushing the boat out. We have some obvious choices in there but also some new faces and shortlisting the list was hugely complex. We could only submit 20 but we actually had 50 in our first shortlist"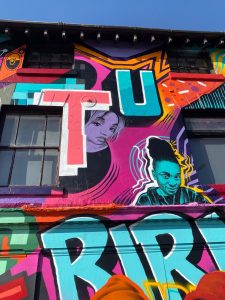 Rtkal said " It really was hard. Im proud of this city and the talent it creates and knowing that we're only able to highlight a few of our future stars has been tough. We've both thought extremely hard to make sure we cover everything from art form, gender, impact in the community, personal connect and so many other things. I hope we have done the city proud with this one."
Creatives on the mural
● Alexandria Chantiluke – Fashion Designer
● Amahra Spence – Artist and Producer
● Cherrelle Skeete – Actress
● Daniel Alexander – Director & filmmaker
● Dapz On The Map – Musical artist
● Darren Harriet – Comedian & presenter
● Despa – Music manager
● Jacob Banks – Singer / Songwriter
● Jorja Smith – Singer / Songwriter
● Knox Brown – Producer
● Lady Sanity – Rapper
● Leon Edwards – MMA
● Liz Pemberton – Nursery Manager
● Mellow – Catering Entrepreneur
● Muna Ruumi – Music Manager
● Mystry – Producer and DJ
● Romderful – Music Producer
● Suriya Aisha – ACTIVIST
● Swifta Beater – Producer
● T-roadz – MC
● TrueMendous – Rapper
● Xhosa Cole – Saxophonist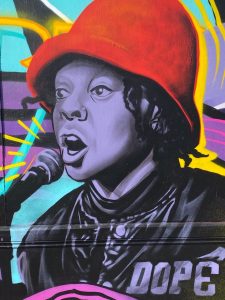 This mural was commissioned by Bass Festival – a city wide festival supporting diverse artists in unusual spaces. You can view this permanent public mural in Birmingham's creative quarter, Digbeth outside Suki10 – an independent venue leading the way with a sharp focus on recycling and the environment.