Greater Birmingham Chambers of Commerce president Saqib Bhatti got a taste of what to expect from his forthcoming charity parachute jump when he visited the Bear Grylls Adventure.
Intrepid Saqib will be jumping from a plane on 28 June to raise money for his charity of the year, Prostate Cancer UK.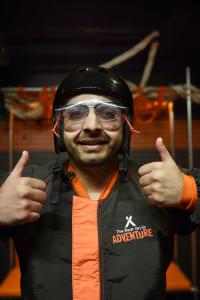 He chose to support this cause after GBCC chairman David Waller and past president Greg Lowson were diagnosed with – and successfully overcame – prostate cancer.
Ahead of the big jump, which coincides with Andy Street's 'Mayor's Giving Day', Saqib visited the state-of-the-art Bear Grylls Adventure at the NEC for a trial run in their iFly simulator.
Saqib said: "Prostate cancer is one of the biggest killers of men in the UK. Yet it is not spoken enough and there is a taboo around getting yourself checked out. It is really easy to do and is a simple blood test. Catching it early means you can treat it and the chances of survival are higher. This is one of those cancers that is beatable in the next 10-15 years. We just need to raise awareness and do the relevant research.
I am putting my life on the line to raise awareness so all those men who have sufferred or who will suffer know that they aren't alone. Two of our board members at the Greater Birmingham Chambers of Commerce were diagnosed with Prostate Cancer and were able to get treated. I felt I had to do something and when you speak to people more and more people come to the forefront speaking of loved ones who have suffered from it. The hardest ones to listen to are the ones whose loved ones have died. We can beat this and every pound helps. Remember, every 45 minutes a man dies from it and 1 in 8 will be diagnosed with it. Prostate Cancer UK needs our help."
Watch the video below to find out how he got on.
You can donate to Saqib's cause here.
Picture credit: Marc Kirsten