Birmingham Youth Sports Academy (BYSA) have a reputation in Birmingham for producing good football teams, but this year they will also be known for producing good citizens of Birmingham. Last year they announced plans to run a Mentoring project for their kids, with the objective of developing role models and ambassadors who could influence their own local communities.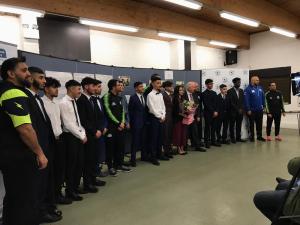 This week saw the graduation of the first cohort of BYSA's youth mentoring project and the community came together to celebrate the occasion. The project was planned just over 4 months ago and in partnership with TSB, the vision is now being realised.
Presenting the graduates with their certificates was West Midlands Police and Crime Commissioner, David Jamieson who said 'Don't underestimate the value of what you are doing, talking to people about good values and doing good things, makes for a better community.' This is essentially what the project has been about; reaching young people in hard to reach communities who need support and guidance. They need someone to help them understand how they could be more than
In their graduation speeches, the young men talked about their responsibilities to their families, how they could help their friends who maybe needed help and how they could sacrifice time now to invest in a better future for themselves. This cohort of youths came from a variety of ethnic backgrounds, but importantly they all live within inner city Birmingham, areas that are under threat of becoming disconnected that the rest of the city.
The 12 week course covers a range of topics designed to help young people manage themselves and understand their role and responsibilities to their families and their community. TSB themselves deliver one of the sessions on managing money and there is also a session on 'Moments of madness' talking about how to manage yourself in difficult times.
Amer Awan, Chairman, BYSA was extremely proud on the evening and said; 'We have high hopes for the mentoring project, we want to positivity influence the lives of young people and not all of them can be reached through football. This will allow us to expand our footprint in the community. Today we saw a lot of parents here today and they all had positive things to say about the changes they have seen in their own kids. A lot of hard work has gone on into this project with all the coaches supporting the sessions, but I would like to thank a few people specifically Saima Rafique delivered most of the course, ably supported by Riaz Khan and Abid Khan.
The project will now be rolled out to other age groups as it becomes a permanent part of the BYSA calendar. BYSA are now truly more than just sports, as they continue on their mission to; positivity influence the lives of young people through positive role models.
The mentoring For more information about our projects, visit our website – https://bysa.co.uk/
To get involved as a member, volunteer or sponsor, email us at info@BYSA.co.uk