After taking part in a TV experiment a young millionaire from Loughborough has experienced a complete lifestyle change living with a mum-of-five on benefits.
Dhillan Bhardwaj, 21, who made his first million when he was just 16, designing clothes for celebrities will appear on this week's episode of 'Rich Kids Go Skint'.
His designer clothing business Ratchet Clothing started in his parent's garage, and he has since designed clothes for Rihanna, Drake, Miley Cyrus, Taylor Swift, and more.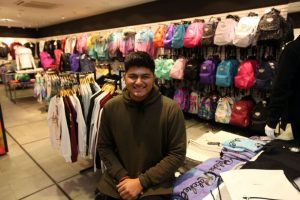 Dhillan will be living with Elaine Sullivan. who is on benefits, supporting herself and her five children.
The series shows 'rich kids' sharing a home with families living on the breadline and will be aired on Channel 5's 5 star.
Dhillan did not find the lifestyle change too much of a culture shock, but wanted to take part to keep himself grounded.
He told the Mercury: "My parents had a similar upbringing – most of my family were immigrants so they had to provide for themselves.
"It wasn't a reality check, but I wanted to see how life is different if you are on benefits.
"I have the chance to share that experience with other young kids who might look up to celebrities with loads of money. I wanted to show them that you can be happy with what you've got."
Dhillan stayed with the family for two days in their council home in Surrey. He was given various tasks during his stay which included cleaning out the chicken coop, and cooking meals.
He added: "When they shop, they go to charity shops, and when they get food, they get best before use I think it's called or best before something.
"It was just different, I even bought them a skip to get rid of all the s**t in their house because they couldn't afford to get rid of it.
"When I arrived, the family were so happy and welcoming. They knew my background and who I was which helped a lot, because I get quite bad anxiety meeting new people.
"When someone asks me what I do for a living, I sometimes want to say I work a normal nine to five job because I don't want to sound like I'm bragging."
This is not the first time Dhillan has been on TV, he took part in Rich Kids Go Shopping on Channel 4, which showed how he spends his money.
Although Dhillan is a millionaire, his take home pay each month does not reflect that.
He said: "My parents take some of my earnings, so I don't actually get paid that much.
"I don't mind telling you that I only get paid £750 a month, and with that money I can spend it on anything I want. The rest of the money goes into my family pot."
The experience was very fulfilling for Dhillan but he did notice differences between staying there and living at home.
He added: "It was a very heartwarming experience, I really enjoyed it.
"I live in such a big house though so it was very hard for me to get used to living in a place where the kitchen is just a step from the living room.
"I usually have space when I need it, so that was difficult."
There are four Rachet stores across the country, in Long Eaton, Nottingham, Bedford and Sheffield.
Rich Kids Go Skint is on 5 Star on Wednesday at 9pm.