The US Supreme Court has lifted injuctions that had partially blocked the ban on travellers from Chad, Iran, Libya, Somalia, Syria and Yemen.
A majority vote in favour of Trumps ban means that the controversial measure to restrict travel into the US can be fully implemented. The lower courts are still challenging this decision, but we will not know of the outcomes for this for a while.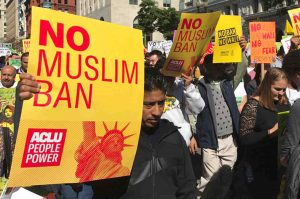 This is the the third version of the banning order that the President of America has pushed since his first week in the White House.
Federal appeals courts in San Francisco, California and Richmond – Virginia, will hear arguments this week on whether the latest version of the policy is lawful.
The Supreme Court noted it expects those courts to reach decisions "with appropriate dispatch".
White House spokesman Hogan Gidley said the White House was "not surprised" by the Supreme Court's decision.
US Attorney General Jeff Sessions called the ruling "a substantial victory for the safety and security of the American people".
But the American Civil Liberties Union (ACLU) said the president's retweeting of British far-right videos last week showed his discrimination against Islam.
"President Trump's anti-Muslim prejudice is no secret – he has repeatedly confirmed it, including just last week on Twitter," ACLU lawyer Omar Jadwat said.
"It's unfortunate that the full ban can move forward for now, but this order does not address the merits of our claims."