Four personalities each iconic in their respective fields of work have been honoured.
The presentations were made at the annual concert last night (Sunday, 29th October) of the British Carnatic Choir in London.
Awards were bestowed upon Julian Lloyd Webber, the world renowned British cellist, the BBC's former Head of Political & Community Affairs Anita Bhalla OBE, Ramesh Verma OBE, founder and Chief Executive of Ekta Project, a charity which supports elderly Asian people and Jatinder Verma MBE, Artistic Director of Tara Arts, the UK's first Asian theatre group which this year marks its 40th anniversary.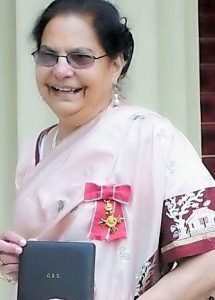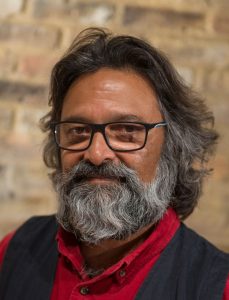 Held at The Bhavan Centre in London, the event brought together people from all ages, backgrounds and abilities. The concert also featured fellows of the National Youth Choirs of Great Britain.
Now in its third year, the British Carnatic Choir aims to promote and increase visibility of Carnatic music, a system of classical music associated with the southern part of the Indian subcontinent. It aims to connect diverse communities across England and promote British Values through the unique tunes and lyrics of this South Asian music.
Speaking ahead of the concert, London's Mayor, Sadiq Khan said:
"London's greatest strength is its diversity, and nowhere is this clearer than in the amazing range of music showcased here every day. The South Asian community in London contribute so much to the life of our city, including through culture, and I know Londoners from all backgrounds will enjoy the British Carnatic Choir's wide repertoire of classic, contemporary and folk pieces."
BCC, a pioneering concept, is the brainchild of Dr Chithra Ramakrishnan FRSA, an established Carnatic vocalist and Artistic Director of Shruthi UK, a not-for-profit South Asian arts and culture organisation based in Solihull, West Midlands.
Repeating her words on air when interviewed by the BBC on the eve of the concert – which happened to coincide with Diwali, the annual Hindu festival of Lights – Dr Ramakrishnan FRSA said:
"Carnatic music is a jigsaw piece of the rich diversity which we share and celebrate in our great nation, the UK. It is through this unique genre of music that we try to promote togetherness and unity. Time ticks on and each of us has a duty, I feel, to each other to live in peace and harmony and music is one thing that can really help bring us all together."
For the first time the BCC has held its concert in London. Also, for the first time an award has been introduced in the name of Dr Ramakrishnan's Late father, Lalgudi Dr S Seetharaman Iyer, a tribute to his exceptional work in the field of Carnatic music.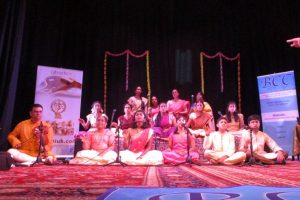 Also honoured on the night were Guru Vid Neyveli Santhanagopalan, an iconic figure in the field of Carnatic music, who flew in especially from India to be part of this prestigious concert. Other awards presented included those for Best Vocalist, Best Young Singer and Best Performer. These awards recognise outstanding talent and ability across various categories and were introduced last year. Six other awards for "outstanding" young people were sponsored by the Royal Birmingham Conservatoire.
Next month, the BCC in partnership with a series of public and private sector organisations has organised the first-ever World Music Conference 2017 in Wolverhampton. Hosted by the University of Wolverhampton, the theme is 'Exploring the intersection of STEM and World Music'. The three-day Conference will officially open with a prestigious dinner on 9th November.