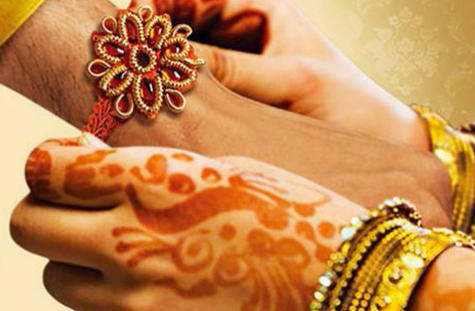 Raksha Bandhan is a Hindu festival that celebrates the bond of sisters and brothers and remind one another how important they are too eachother.
It's a time of giving gifts, prayers & showing affection & love to siblings.
Here's everything you need to know.
What is Raksha Bandhan?
The words 'raksha bandhan' in Sanskrit roughly mean 'bond of protection'.
Celebrated by family members, brothers and sisters.
Can also be celebrated by close friends, who are considered to be part of the family structure also celebrate Raksha Bandhan.
When is Raksha Bandhan?
It depends – this year it is Monday 7th August but the date varies because it is traditionally celebrated on the full moon day (Shravan Poornima) in Shrawan, the fourth month of the Hindu lunisolar Nepali calendar.
How do people celebrate Raksha Bandhan?
Sisters tie a sacred thread, called a rakhi, their brother's wrist.
The rakhi represents a sister's love and prayers for her brother, and the brother's promise to protect her.
Brothers and sisters often exchange gifts – anything from cards, clothes and money to computer games.
Who celebrates it?
It is celebrated by Hindus across the world. It is especially a big deal in India, Mauritius and Nepal.
Non religious people also celebrate Raksha Bandhan.
What's the history behind it?
Several Hindu legends have mentioned it in the sacred thread.
In the Indra, king of the Hindu gods, the thread was pivotal in winning back his home when a demon king invaded.
In the legend, Lord Vishnu tell's Indra's wife Sachi to tie a sacred thread round Indra's wrist.
This act helped him reclaim Amaravati (the home of the gods).
How did it end up being about brothers and sisters?
Raksha Bandhan celebrations were encouraged by writer Rabindranath Tagore as a patriotic act against British rule in Bengal.
Tagore used the ceremony as a way of getting boys and girls involved in the freedom movement.
Now it is generally just an act of sibling love – a way of wishing a brother longevity and a promise that a sister will get her brother's support.