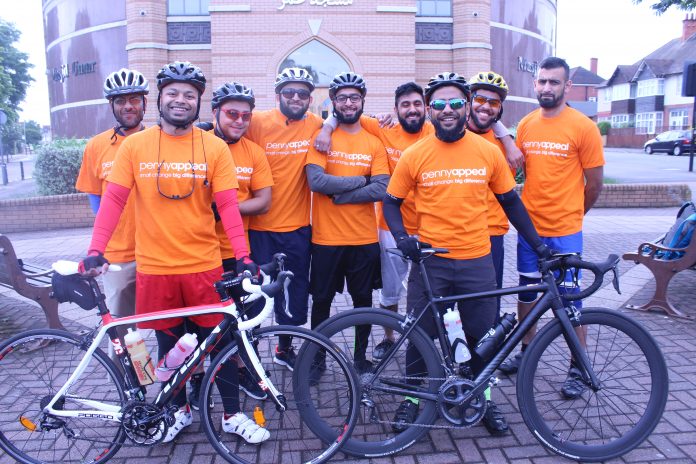 Twenty-two riders are about to embark on a gruelling six-day, 410-mile cycle ride from Leicester to Luxembourg, to raise much needed funds for two charities.
The team will depart at 10am on Saturday 5 August, from Leicester's historic clock tower and we are encouraging everyone to come down and show their support by waving the team on their way. This is a huge event and there will be a party atmosphere. Followed on their epic journey and filmed by British Muslim TV, the group will first head for Harwick to catch the overnight ferry to the Hook of Holland. From there they will continue the journey through Holland, Germany, Belgium before arriving at their destination in Luxembourg.
Established in 2012 by a group of De Montfort University students, Riders of Shaam, have hosted annual cycle rides to different parts of Europe, all for worthy causes and to date have raised more than £115,000. Add to this the £65k raised so far for the 2017 chosen charities and that figure becomes £180,000 and still growing.
The two beneficiaries this year are humanitarian charity Penny Appeal and local hospice Loros. £65,000 has been raised so far, well exceeding their target for Penny Appeal of £50k to raise funds for three of the charities many humanitarian projects.
£20k will go towards Urgent Response, a programme covering emergency aid for Syria, Somalia and Yemen. Penny Appeal is supporting Syria and neighbouring countries Yemen, where civilians are targeted amid the conflict and areas affected by famine in East Africa. The urgent response project will deliver aid such as food parcels, clean water, medical supplies and medical assistance.
£15k has been raised for Hifz Orphans in Gambia. This is a unique three-year sponsorship programme that supports orphans in reading, learning and memorising the Holy Qur'an and gives them the quality care they need to build brighter futures.
£15k has been raised for Thirst Relief in India, Pakistan, Bangladesh and Nepal. Three children die every minute from drinking dirty water, with access to reliable clean water, thousands of lives can be saved each day. It costs just £300 to build a well for a family.
"The riders have done an amazing job so far," said Haroon Mota, Penny Appeal Fundraising Manager. They have trained through Ramadan with very little food and water and still managed to raise this incredible amount of money that will benefit so many people across the world. We can't thank them enough and wish them a safe and comfortable ride"
Finally, £10k will support Loros the hospice covering Leicestershire and Rutland. The money raised will go towards the purchase of new beds for patients with an increased risk of falling out, these new beds provide maximum security and reduce the occurrence and severity of falls.  Loros Fundraising Co-ordinator Andrew Ward said: "We are extremely grateful to the Riders of Shaam for their commitment to fundraise and would like to wish the entire team good luck in the build up to their cycle challenge.
"It is a real privilege being part of the Riders of Shaam," said leader of the group Amin Omar. "I have taken part in every ride, each of which brings a new experience, new people, new challenges, ups and downs, but above all, the strong unity between the group. It is more than just cycling, the community really pull together, donate towards the cause, sponsor us and really get behind us. The support is incredible. Every year a new challenge begins, so watch out for us in 2018!"
Supporters can follow the progress of the riders with regular updates and pictures from the start by following @pennyappeal @teamorange and @RidersofShaam on Twitter.
For further information or to donate visit www.ridersofshaam.com Email: Haroon.mota@pennyappeal.org Tel: 0771 424 9215