Almas Martial Arts Centre is a specialist fitness centre for women in Birmingham. Based in Hall Green and Moseley, the centre was set up by Nagina, a black belt with 30 years of experience who has represented England. We sat down to find out how Nagina Munawar got into martial arts, how she's helping women in the community and the real life benefits of martial arts.

How did you first get into martial arts?
My father got me into it when I was 5 and it was something he was very passionate about. At the time I was growing up in Asian community with kids hanging out on the streets and he didn't want that for me so he got me involved in martial arts. It wasn't just about having another interest outside of school but he was big on fitness and health and as well.
You played for the England Team, what was that like?
I used to represent the England squad for a few years, fighting nationally and internationally and training 4-5 times a week. When representing a country there's a level of commitment required in order to qualify. You had to claim your place annually. I grew up hardly having a social life because my time was taken up with training. It was a huge commitment and at the time there was no funding or sponsorship. It was considered an art, not a sport, so everything I did was funded by my father or my part-time jobs.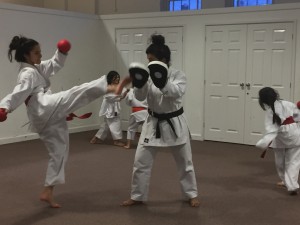 Was being a Brummy Muslim women ever an obstacle?
It is a male dominated environment, but also when you spar you have to go for it, you don't want to be known as the kid who loses every fight. As such, you end up building a mental resilience. I think that journey not only helped me in martial arts but my personal journey. I've grown as a woman in terms of how I deal with things and manage things. You're always going to get a bit of a stigma when you go to tournaments and compete in front of thousands of people. I often got asked questions, 'how do your parents feel about you training?' When I told people it was my father who supported me, they were surprised.
What made you feel the need to open up the Almas Martial Arts Centre?
It was something I thought about a few years back and I took the plunge just over 18 months ago. It was to bring women together and help and identify their problems. Self-confidence issues are very common among the Asian community as a lot of women are so committed to being amazing mothers and wives that they can lose themselves. You end up having very little time alone or for socialising. So many women end up sacrificing career and social lives for their home and family. Almas gives women the opportunity to raise their confidence, lose weight after childbirth, and give them a social network. We also get involved outside martial arts and are looking at hosting charity events. Every week the women meet up and push through their session and meet friends and fellow mothers. For mother and daughters, it lets them bond in a new environment.
Why women only?
I decided I wanted to do something not just for women but for the future generation too, because the women and girls I train are future leaders and we need to empower them. It also breaks stigmas about women training and doing martial arts. We do everything from grappling, to restraints to sparring, circuits, cardio and more, so it's very dynamic.
What kind of women attend?
A wide mixture, there's moms, young girls, teenagers, single parents, women wanting to get fit, women with weight problems. I've had women lose a lot of weight from training and from my advice on what to eat even after they leave the centre. I keep in regular contact with them so I can offer any advice I can. I've actually had interest from men too. I'm looking into mixed classes and it would be nice to see women trainers teaching boys too.
What are some of the mental benefits?
I work out 5-6 times a week purely because I need that time for myself. I encourage everybody to pick up some sort of physical activity. Also as women, we are key foundations to households, so if you're physically and mentally well, you can take care of your extended units, be it your parents, children, husband, whoever. One thing we don't do enough of is take care of ourselves, we have a tendency to take on everybody else's stress but need to be kinder to ourselves.
The body is very resilient and strong, it will keep going, often what makes you stop is the mind-set. And that's not just in training, that's in life. Many women say it mentally makes them feel better when they train. I think the benefits are endless.
You can check out more of the Almas Martial Arts Centre by heading to the ALMAS Martial Arts Facebook