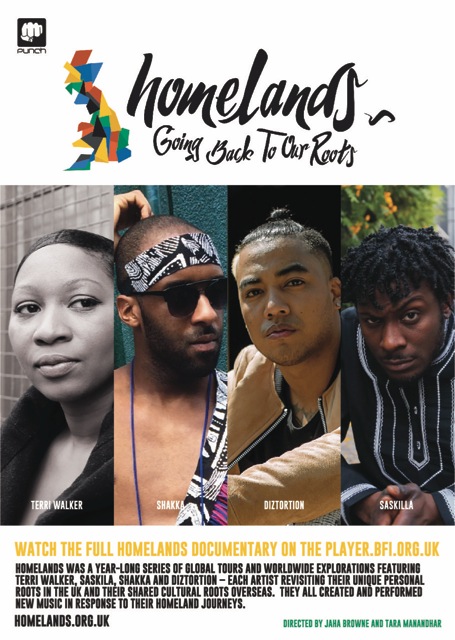 On thursday 30th march 2017 bfi player (player.bfi.org.uk) will launch the complete homelands documentary, following four of the uk's most exciting black artists signed onto homelands, a international music adventure that would challenge them all artistically and personally.
Homelands was a year-long series of global tours, artistic residencies and worldwide explorations that involved each exceptional musician revisiting their unique personal roots in the UK and their shared cultural roots overseas, as they all created and performed new music in response to their homeland journeys. Today's documentary is a culmination of each story.
Terri Walker is a Mercury Music Prize and four times Mobo Award Nominee, singing with TNT, 187 Lockdown and Shanks & Bigfoot. She was signed to Def Soul in the UK, and worked in Jamaica.
Diztortion has his own recording studio in London and is signed to Universal Records, working with Lethal Bizzle, Stylo G, Wiley, Tinie Tempah and others. Diz headed out to Suriname, South America.
Shakka is a double Mobo winner and has millions of Youtube hits on his Shakkapellas. He's worked with Wretch 32, Basement Jaxx and Angel, and headed out to Dominica.
Saskilla began mcing at the age of 15, and played a major part in the UK's grime scene, forming Nu Brand Flexxx and also as a member of Roll Deep. He travelled to Senegal.
Ammo Talwar mbe, CEO of Punch, the agency behind the Homelands documentary said:
"This is a groundbreaking documentary that really challenged each exceptional artist uniquely. They all traveled alone, with a small film crew following them, to a nation at the root of their sound and cultural identity. They made new compositions with local musicians, and met up with family in each homeland country."
Directed by Jaha Browne and Tara Manandhar www.homelands.org.uk
Thursday 30th March 2017 BFI player
"I really want people to see where my influences come from – it will make me grow"
TERRI WALKER
"I want to show people what the culture is about, and how it blends with my music"
DIZTORTION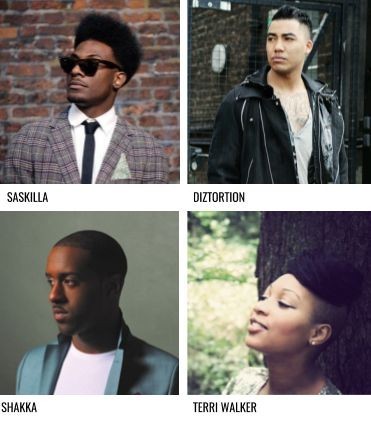 "I want to discover more about myself and shine a light on the true origins of UK music"
SHAKKA
"I'm hoping to advance as an artist and I'm excited to experience the cultural clash"
SASKILLA