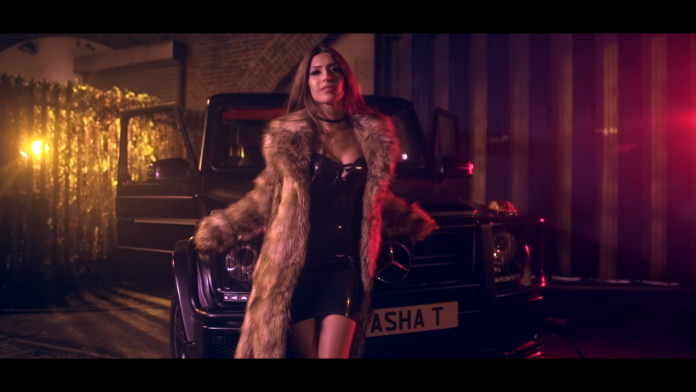 Tuesday 21st March, London
British songstress Tasha Tah releases her much-anticipated new single 'Oye Oye' on Thursday 30th March. The singer, songwriter is planning to release brand new material in 2017, after having spent the majority of the last year recording and touring.
'Oye Oye' is a fun, fiery, dance number with Tasha's trademark Urban Punjabi style and is set to light up the dance floors this month. The song will be released on 30th March via B4U Music on all major digital platforms including iTunes, Amazon, Spotify and Apple Music.
Tasha says: "My next release has been in the pipeline for some time and I'm so excited to be able to finally share the news that my new single 'Oye Oye' is out this month!
It's an up-tempo R&B / Punjabi vibe, a style which I'm very comfortable with and which my fans have come to enjoy over the years.

I've recorded so much new music with the very distinct UK Asian sound and I hope to fly the flag high for British Asian girls globally this year, starting with Oye Oye."
Tasha Tah has been on the British Asian music scene since her explosive debut single 'Haan De Munde' released in 2011. With following hit singles such as 'Kurbaan', 'Lak Nu Hila' and the game-changing 'Malang', Tasha has amassed a strong fan following in the UK and internationally, with over 12 million YouTube hits.
The sassy British singer, songwriter draws her inspiration from her Indian background, a strong musical family heritage and being in and around musical icons from a very young age.
Tasha's debut single 'Haan De Munde' topped the charts in the UK and cemented her position as the first lady of the 'urban desi' genre. Tasha has achieved success both in the UK and in India with her unique fusion of western and eastern music, catching the attention of international media powerhouse B4U, who have signed her with an aim of excelling her to one of the world's leading female artists.
In 2017, Tasha Tah prepares to bring her unique sound and style back to the forefront, kicking off a new chapter in her career with the brand new single 'Oye Oye'.
Download full EPK including high res images for press use: https://www.dropbox.com/sh/501l7bi2kz4dgo5/AADYgoa3ghmxkf6cJD-nml-pa?dl=0
Download audio & video files for radio, TV and online use: https://www.dropbox.com/sh/j2g2h3nm2i3nmv6/AADOt0hB9zWyqyI_RiPlmDJVa?dl=0
Join the conversation:
#TashaTahOyeOye