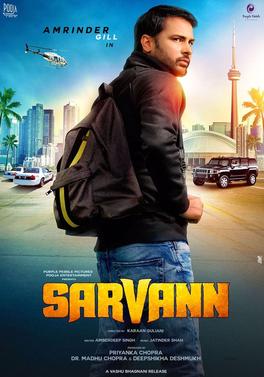 In this interview with Arminder Gill, the lead actor in Sarvann, we discuss the complexities of Punjab cinema in the midst of the upcoming movie. Sarvann is the first movie from Priyanka Chopra's production house Purple Pebble Pictures and is a coming-of-age tale featuring a young NRI and his return to India.
What is so different about this film? And what is the message of Sarvann?
Sasrikaal to all my fans. My forthcoming film, Sarvann, which is releasing on the 13th of January, which is Lohri, is a film that is very different from all the films I've done till date. Although it has an interesting story, there is also a very strong social message for the youth of today, why its important to stay connected with your roots, how you can re-connect with them. So that's what the film is about.
So what is your role in the movie?
If I look at the role of this film and as I've previously stated the storyline, it's a character that I have not played before because there's a negative shade to this character like a disillusioned young person, many of whom we see in today's society, and how he returns back to his roots, what are the catalysts in his life that enable him to return back to his faith and his roots.
That's really what makes the character very different for me to play. It's a real character and it's based on what's happening in today's society like I previously said and that's why it's different and very challenging for me to have portrayed.
So who is the target audience for this film?
Well, really, it's a family film because as the film's message is about a disillusioned young person who doesn't fit into society, how he is in the family home and how the family is affected by his negative behaviour.
That's an important message that all families should go and see because they would be able to identify with what's going on especially if they, themselves have children who are going through this particular phase in their life. So, therefore, it's not just a film targeted for the youth, it's a film for the whole family because when somebody plays or has some negative activities in their life or behaviour then everybody close to them is affected and that's the message, that's what we're trying to portray in this film.
So the film is really for the whole family. I would also request that the whole family watches this film to understand that social message.
So what has been the most challenging aspect of this film?
Well, the role was challenging but what was most challenging is that the character I play has a problem with his leg, he has a limp and throughout most of the film, I had to walk with a limp, which was very challenging for me.
So when I first started this shoot on the first day, I did doubt my ability, I did doubt whether I would be able to sustain the role and sustain playing a character who limps and keep it real. I didn't wanted to be seen in any negative way and I didn't want to belittle anyone who has such a disability. That's why the doubt was there. And sharing something funny, each time I was actually taking a shot, I'd prepare myself and I'd forget that I had to limp so I had to repeat the shot over and over again.
But what was really funny, even more so, was that by the time I had completed the film I had got myself so engrossed in the character that I would walk around with a limp ordinarily and even when I started my next project, I found myself walking with a limp and the director had to remind me that the character in your new film doesn't have a limp. So I'm glad that I was able to overcome all those doubts and I do believe that I have portrayed this character with as much conviction and genuinity as I can.
Please tell us about the music of the film and have you sung songs in it before?
The film has been produced by Priyanka Chopra, Deepshikha Deshmukh, Madhu Chopra and has been directed by Karaan Guliani. The music has been composed by Jatinder Shah. The music has already been appreciated quite a lot.
There are four songs in the film but the film also has quite a few shabads, which have been used at various junctions in the character's life because it is about him reconnecting with his faith so when he goes to a Gurudwara, there are shabads that are played and used at various background. The title track has been sung by Ranjit Bawa, who is also in the film. It's his debut film and my favourite or a song that I feel quite attached to is Ni Mainu Pyaar Ta, which has been playing quite successfully and has been appreciated quite a lot.
You must be happy with and how Punjabi cinema is doing?
If we look at Punjabi cinema and its growth, it's just not me but the whole of Punjabi community should be extremely proud and happy at the way Punjabi cinema has grown over the last few years. Punjabi film content has changed the way that the films have been made has changed, and the way that the films are being distributed worldwide, that has also changed. And now it's not seen as a poor second cousin because now all the big production houses actually want to invest in Punjabi cinema.
If you look at Priyanka Chopra, herself a big name, she's invested in Punjabi cinema as well. Not just Priyanka Chopra but Pooja films, Vashu Bhagnani, well known in the Bollywood industry, he's also produced this film and that just shows that Bollywood cinema, Bollywood production houses are seeing the wealth and growth of Punjabi cinema and I think that's just not me it's the whole of the Punjabi community that should be applauded for this. And this will only continue if we as Punjabis continue to support Punjabi cinema when it comes out.
No doubt the media has been very supportive, production houses are very supportive but the biggest support has come from the Punjabi community. And I would urge all Punjabis to continue supporting Punjabi cinema and not just my film but go and watch all Punjabi films that come out because without your support, we would have not reached to the place or the position that we have reached at and it's now with your support that we need to continue moving forward.
What are your future hopes for Punjabi cinema?
Well, if I take this answer one step further, you can see that there are big production houses that are now aligning themselves and associating themselves with Punjabi cinema. We're having a lot of access to a lot of the industries trade people, there is a lot of young talent who want to join and be a part of Punjabi cinema so that's opening doors for the future directors, future musicians, technicians, even future actors so if you look at it from that perspective, I would say that the future of Punjabi cinema is very bright.
All I can say is with my hands closed, prayers and a binti that Punjabi cinema is supported by everybody and all of us should ask for its growth, its success, for Punjabi cinema to remain in chardi kala. And long may Punjabi cinema continue to be successful and finally before I sign off, I would just once again like to request everybody to continue supporting Punjabi cinema as you have done, continue supporting films that I have been part of and on Lohri day, which is the 13th of January that you take all your family members to go and watch Sarvann, a film with a social message that will touch the hearts of the youth today.