Earlier last year Tolly Boy Rice hosted a festive lunch for elderly members of the Afro Caribbean Elders Association, William Morris Community Centre, Walthamstow in London.
Mel Ennis who is the Chairperson of the William Morris Community Centre said, ''We try to ensure that all our members feel cared for and have someone to share a cup of tea or a game of cards with. These afternoon sessions are always popular with the elderly as they offer a positive outlet and are a great way to promote bonding amongst the community. Initiatives like this are always welcome. We would like to thank Tolly Boy Rice for being a part of our community with their wonderful feast and the engaging game which had everyone's rapt attention.''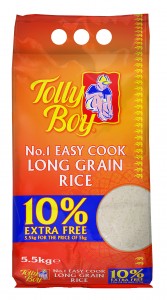 Always endeavoring to do something special for the community, Senior Brand Manager – Tolly Boy Rice, Steven Perry said: "At Tolly Boy Rice we always try and give something back to the community. This year, we thought why not surprise members of the community by hosting a surprise lunch? It was heart-warming to see the happiness and glow on the faces of those present on the day and we were happy to be a part of the community celebrations."
Tolly Boy also decided to team up with some talented food enthusiasts, both bloggers and chefs, it was not surprising to see the many creative recipe ideas that they came up with. As expected Jollof rice was on top of the list for many of our foodies. Jollof Rice was also served at the event for the elderly and went down an absolute treat. No matter which dish Tolly Boy rice is used for, there is always an interesting story that goes with it.
Thelma Egbe – the brain behind Thelmz Kitchen says that rice is an important part of her African roots. In her words, ''Being Nigerians we cannot celebrate without a rice dish. Though Jollof Rice is the most well-known dish, different countries have theirs made differently. My favourite dish is Nigerian style fried rice, a delicious, colourful and very inviting dish."
Kezia Eniang – the food enthusiast behind Kezia's KookBook spoke about her favourite rice meals. She shares: "One of my favourite recipes for celebrations, aside from our beloved Jollof rice is the delicious and aromatic seafood coconut rice. Its rice simmered in coconut milk; flavoured with delicious herbs and spices with the addition of shrimps and vegetables. Simply delightful and always a crowd pleaser!"
Chef Malcolm Riley from The African Chef share his thoughts:" I like pairing sweet potato and coconut rice, with grated zest of lemon. This tastes great when garnished with coriander and served with authentic African spicy jerk pork."
Patti who runs a successful pop-up restaurant and writes a popular blog called Patti's Menu makes her own version of the classic Jollof Rice, adapted from her mum's recipe and her top tip is adding in cuts of lamb for its fragrance and flavour. She describes Jollof rice as "One of the best rice dishes – ever!"
But Patti isn't the only one, Bintu Hardy – a busy mum of two who shares her passion for food in her popular food blog 'Recipes from a Pantry' said: "To me a celebratory spread must include: Jolloff rice and stew."
Tolly Boy said: "We have been a part of the British Africans culinary journey for decades, and whether it is Jollof Rice, fried rice or rice with stew, we are always there to make meal times more sumptuous and wholesome. No matter what you choose to cook, from simple steamed rice to accompany spicy stews to expertly crafted baked rice dishes, Tolly Boy Rice will cook perfectly each and every time. Satisfied families mean happy mums and happy tum's, young or old.''