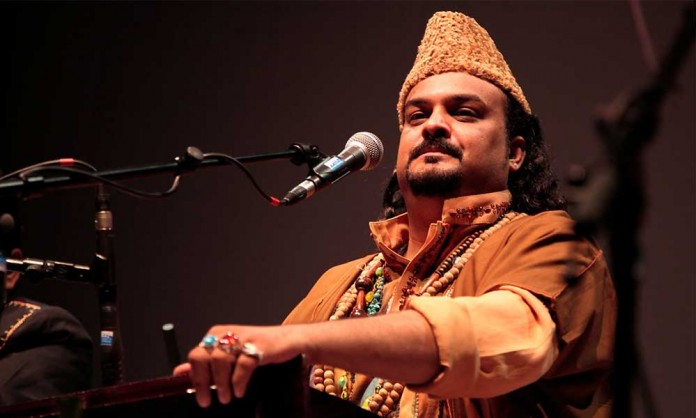 Two gunmen fired at his car in the hectic Liaqatabad area, informed by the police.
Amjad Sabri died on his way to the hospital.
The Pakistani Taliban has announced that they were behind the attack.
Sabri was a prominent promoter of Sufi devotional music, known as Qawwali. Sufism which is an accepting, mystical practice of Islam has millions of supporters in Pakistan but is opposed by extremists.
The Taliban, who see Sufism as unorthodox, have been accused for earlier attacks on targets connected to Sufi Islam.
However, there haven't been any attacks in recent years.
Sabri, who was amongst the sub-continent's top Qawwali singers, was hit by five bullets. Another person, believed to be a relative, was injured in the shooting and is allegedly in a critical condition.
"It was a targeted killing and an act of terrorism," said a senior police officer, Muqaddas Haider.
Customary calls have been made to identify and arrest the killers but there have also been voices of despair over the constant failure to put a stop to militancy in Pakistan.
A huge crowd assembled outside Sabri's home to express their sorrow and comfort relatives.
Pakistan's Prime Minister Nawaz Sharif condemned the killing and said the singer would be massively missed.
"Totally shocked to hear the news of @AmjadSabri. May Allah bless him with Jannah (heaven) for he praised Him & His Prophet beautifully all his life," Ayaz Sadiq, the speaker of Pakistan's parliament, wrote on Twitter.
"Terrible loss of Amjad Sabri. His voice touched so many hearts & souls across the globe. Let's not be numbed by these murderous terrorists," tweeted journalist and publisher Najam Sethi.
Journalist Amir Mateen tweeted his dismay at a familiar "pattern" of events. "Politicians cry; public huffs & puffs; then back to normal until next tragedy. Shame," he said.