A woman battling heart disease is taking on the British Heart Foundation's (BHF) new MyMarathon challenge with her husband just two months after having major heart surgery, helping raise funds for the charity's vital research.
Kuljeet Jagdev from Birmingham was devastated after being diagnosed with coronary heart disease – the UK's single biggest killer – at just 45 years old when doctors discovered three of the arteries in her heart were blocked.
The news meant Kuljeet had to have a triple heart bypass, to help restore blood flow to her heart. Tragically, just days after undergoing major open heart surgery, Kuljeet's mum passed away after losing her fight with terminal breast cancer.
After spending five days in hospital, undergoing cardiac rehabilitation, and mourning the loss of her mother, Kuljeet spent a year getting back on her feet and went on to marry her beloved husband Narinder.
Then in March this year Kuljeet had to undergo major heart surgery again to have three stents, after one of the bypass grafts became blocked.
Now, just two months on, she is taking on the BHF's brand new MyMarathon challenge with her husband, to help raise money for life saving heart research.
The BHF's MyMarathon fundraiser challenges the nation to run or walk 26.2miles over the month of May to help beat heart disease.
Coronary heart disease is the UK's single biggest killer, claiming nearly 70,000 lives a year. More than twice as many women die of coronary heart disease than breast cancer.
People from either an Indian, Bangladeshi or Pakistani background like Kuljeet are also at greater risk of heart disease.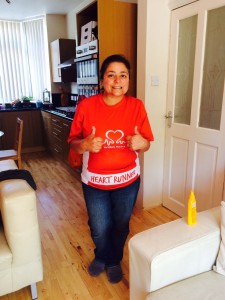 Kuljeet, who is now 49, said: "I was absolutely flabbergasted when the doctor told me I needed a triple heart bypass. I just couldn't believe it was happening to me. All I cared about was being near to my mum, and I am convinced she held on just long enough to make sure my operation went well and that I was okay.
"It took a long time for me to come to terms with what happened, and I am so grateful to be alive. Heart disease is devastating; it's completely changed my life. But I'm determined not to let it beat me that's why I decided to take on the BHF's MyMarathon challenge.
"It feels like a challenge that I can achieve, and the money I raise will help fund research that could help save lives, and support thousands of heart patients like me living with heart disease which is great."
Every pound raised from MyMarathon will help the BHF fulfil its ambition to fund half a billion pounds of new research in the next five years, to revolutionise and accelerate the fight against heart disease.
Donna Stokes, BHF Fundraising Manager for Birmingham, said: "Heart disease is heartless. It can affect anyone at any age, but it's only through research that we can help save more lives.
"We're incredibly grateful to Kuljeet for taking part in our MyMarathon challenge, especially after experiencing first-hand how devastating heart disease can be. It's only with the support of fantastic fundraisers like her that we can continue funding life saving research to beat heart disease for good.
"If you do have a heart condition and would like to take part in MyMarathon, we would recommend that, like Kuljeet, you consult with your doctor before you join in."
To find out more or to sign up for free to MyMarathon visit www.bhf.org.uk/mymarathon
To donate to Kuljeet visit: https://mymarathon.everydayhero.com/uk/KuljeetJagdevmarathon