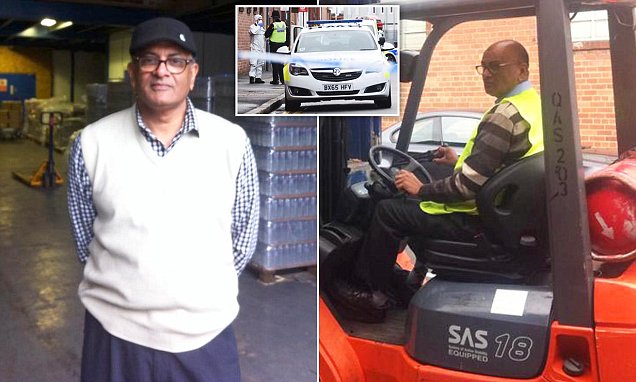 Eye witness reports have revealed that Digbeth Murder victim Akhtar Javeed, was tied up and led away by two gunmen before being shot in the head.
"The next thing is I heard the gunshot. I didn't know what had happened. I didn't see it but it sounded like an execution.
Akhtar Javeed, 56, along with three employees, was tied up by masked men after they raided the Warehouse based in Rea Street South.
The armed men were said to have singled out Javeed, before leading him away from other workers and shooting him in the warehouse reception area on Wednesday evening.
West Midlands Police have said the two murder suspects fled the scene and remain unidentified.
Mohammas Ashraf, an employee of Mr Javeed's, described to police the chilling moment his boss and friend was executed, stating: "I'm devastated and heartbroken. The men burst in before we were due to close.
"They were wearing masks and had guns and tied the four of us up.
"Then they asked for Akhtar and took him away. I can't remember if they said his name or asked for the boss.
"The next thing is I heard the gunshot. I didn't know what had happened. I didn't see it but it sounded like an execution.
Armed police gathered at the site after receiving a 999 call from a distressed Mr Ashraf and found the business –owner face down with a gunshot wound to the head.
Fingertip searches and forensic testing have been taking place at the scene. Police are still yet to decipher what time of firearm was used.
Eyewitnesses described seeing his body in the road near Birmingham city centre.
The father-of-four was alive when paramedics arrived at the scene, but was tragically pronounced dead a short time later at hospital.
Mr Javeed, originally hailing from Upton Park East London, relocated his business to Birmingham after losing money in failed business venture in the capital.
He was said to stay in the West Midlands during the week and returned to his family home in London at weekends.
Superintendent Andy Parsons, from West Midlands Police, confirmed suspicions that the gunmen targeted Mr Javeed's business specifically.
Adding:"It's early stages of the investigation but at this moment in time we believe this was a targeted attack at Mr Javeed's premises and the purpose of that attack was a robbery.
"There were a number of staff members in the premises at the time. We are working with them both in terms of trying to understand what they can offer in terms of evidence but also offering support because, as you can imagine, it was a hugely traumatic incident.
"Anybody who saw a vehicle drive away at speed in the Rea Street South area and MacDonald Street, we would ask them to call us anyway because anything they give us could help anyway."
Mr Javeed, 56, leaves behind his wife and four children – a daughter, 30, son, 24, and two younger sons, 11 and 9 years old.
Family friend, Faisal Shan commented: "Obviously his family are devastated.
"They told me Akhtar was waiting on the last delivery of the day and was about to lock up when two men in masks burst in.
"It's horrible news. They are such a nice family and Akhtar was loved round here.
"He was a very hard-working family man. He was in Birmingham trying to earn money to support his family and then this happens. It's sickening."
A post-mortem examination is yet to take place as part of the murder investigation.
Any witnesses should contact police on 101 or the independent Crimestoppers charity, anonymously, on 0800 555 111.