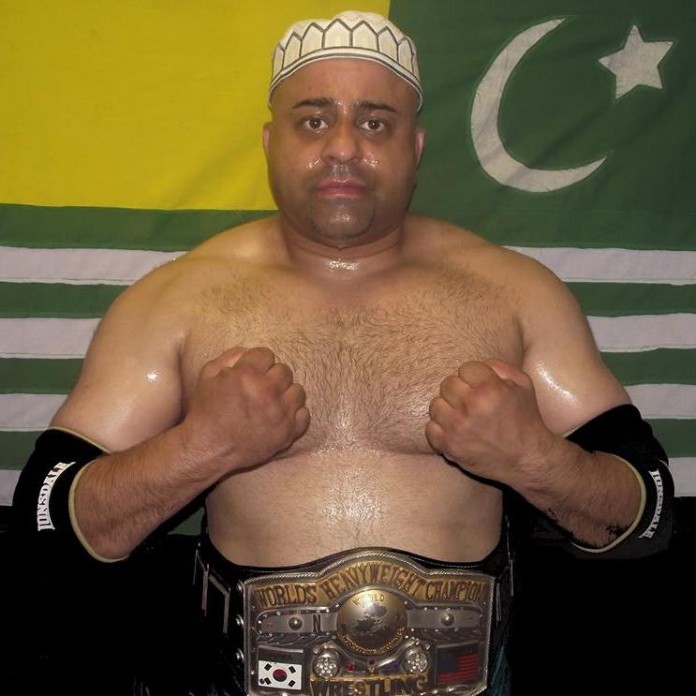 Shak Khan (Raja Sony Palwan) Hailing from the village of Sochani near the town of Dadyal, Azad Kashmir in Pakistan, Shak Khan is the current Pakistani World Wrestling Champion.
Shak has a range of fighting skills and techniques learnt thoughout years of fighting in championships worldwide and also whilst training with some of the most respected fighters in the field. Trained by the world famous International Pakistani Heavyweight champion of Azad Kashmir Ali Shan who has competed in tournaments around the world but is now since retired. Also trained in the UK by the most feared british world of sport wrestler "Dangerous" Dave Duran (John Palin).
Shak has come a long way since turning Professional at 16. Starting out at Blackpool Pleasure beach taking on members of the public for money at the Wrestling Challenge shows that took place in the mid 1980's.
Name:  Shak Khan    D.o.b:  10-10.73
Height: 5ft 8             Weight: 16 Stone
From: Dadyal, Mirpur, Azad Kashmir, Pakistan.
UK Residence: Blackpool Lancashire.
Number of years as a Pro Wrestler:16 years
Titles Held: Freestyle Amateur Wrestling Champion of Azad Kashmir, Pakistan. No holds barred full contact champion. Mid-Heavyweight Asian Wrestling & Streetfight Champion of Azad Kashmir Pakistan.
Fighting Style: Hardcore & Technical Grappler
Shak Khan (Raja Sony Palwan) is the only Professional Pakistani wrestler in the world. He is proud to represent Azad Kashmir in tournaments all over the world.
Tournaments so far include:
1998 – Dubai Desert Challenge
2009 – Kuwait Wrestling Championship
Countries travelled. Spain, France, Caribean, Greece, Middle East, Dubai, Kuwait, Pakistan.
Shak Khan wrestles mostly overseas but is available for independent tournaments and appearances within the UK and Europe.