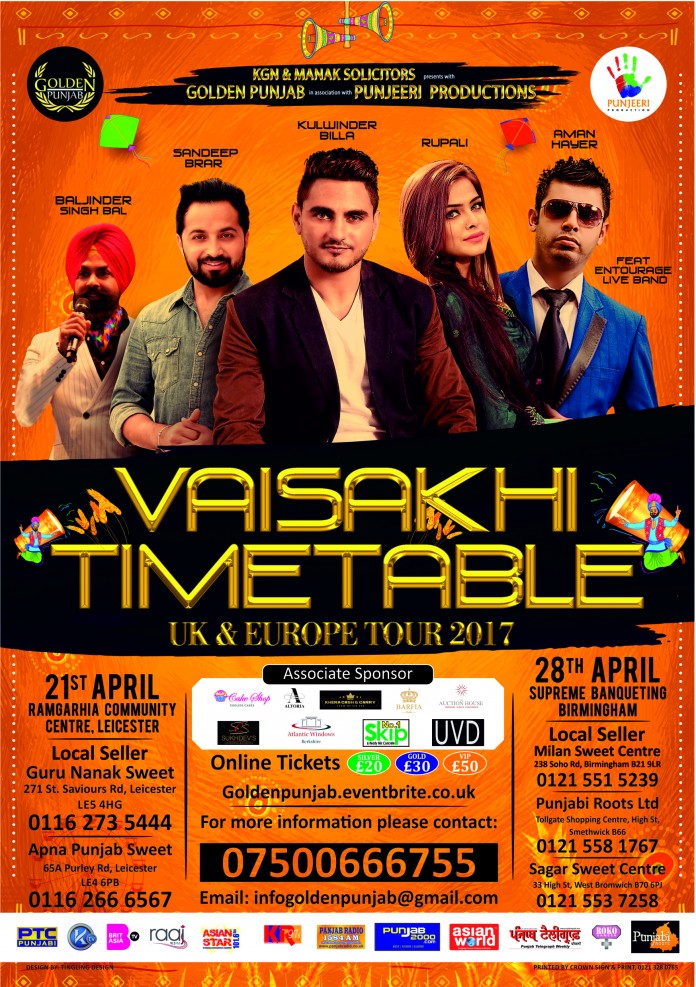 GOLDEN PUNJAB IN ASSOCIATION WITH PUNJEERI PRODUCTIONS BRINGS YOU VAISAKHI TIMETABLE UK & EUROPE TOUR 2017
After the huge success of Gutt Naar Di, DJ Wajda, Anteena, Angraji Wali Madam, Wargi and super hit Timetable, Aman Hayer and  Kulwinder Billa with full Entourage Live Band come together first time in the UK with supporting artists Sandeep Brar super hit Chaar Din, Rupali 2016 chart hit Wonderland  for the Vaisakhi Timetable UK & Europe Tour 2017.
With a zest of music in his heart from an early age, Kulwinder Billa has made a massive mark in the Punjabi music industry. He has a melodious voice and his songs fit the demands of the Punjabi audiences. He has superb vocal qualities with smash hits that have graced dance floors worldwide and led him to storm music charts.
Baljinder Bal CEO of Golden Punjab commented 'We are proud to be hosting the Vaisakhi Timetable UK & Europe Tour 2017 in association with Panjeeri Productions, both in Europe and the UK, with such an amazing line-up. And not forgetting our sponsors KGN, Manak solicitor, Sukhdev Catering who have given Golden Punjab tremendous support, we look forward to celebrating Vaisakhi with you all.'

Below we bring you  an exclusive interview with Kulwinder Billa during his tour.
The last few years have been hugely successful for you. How do you look back on them?
I see all the success as a blessing and accept it all with humility. I give full credit for the success to the immense support of fans who have been with me every step of the way and heartfelt gratitude to the almighty. I believe you can only move forward by looking ahead. Right now I am focused on delivering more songs in the future for listeners around the world.
You have had a remarkable success rate in recent years. How have you been selecting the songs you do?
I do look deep into the songs before selecting them and will always choose ones with subjects that connect to the everyman. I personally feel songs are built from the ground up and ones with subjects every one can relate to in some way are the strongest ones. Listeners should be able to connect songs to their daily life or moments from the past. When people relate to a song they make a stronger connection to you as an artist.
What do you think has been the secret to your success?
There is no big secret to success. It is all about hard work and believing in yourself. That is the simple success mantra I believe.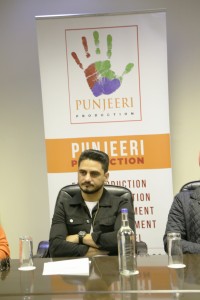 Which of your hit songs are closest to your heart?
Every true artist will put their heart and soul into every song they release. That is why it is impossible to choose just one song as a favourite. But if you are really pushing me, then Timetable 1 is a track I love and enjoy singing. (Laughs) Tomorrow if you ask me the same question I will probably choose a different one. I think what is more important is that the fans love my songs.
Have any of your songs exceeded your expectations?
You can feel good about a song while recording it, but can't predict how it will do. That is up to the listener. They decide if a song will be a hit or not. One song that did surprise me was Angreji Waali Madam. I knew it was a great track, but it performed way beyond my expectations and became a hit all over the world in an outstanding way.
You have done some great music videos, how much do you get involved in the storylines of them?
(Laughs) First of all thanks for the compliment! In terms of the music videos, their storylines and acting in them, they largely represent me as a Punjabi. I am genuinely that person who is connected to his roots. Punjabi traditions and way of life is my soul. So I always try to do music videos representing that traditional side of me.
You are very good in the music videos. Is acting something you want to pursue seriously?
Yes acting is something I have fallen in love with and feel I can do. I'm currently looking for a script, which suites both my personality and behaviour. It's a great time for Punjabi cinema, so I am hoping to find something soon.
Tell us about your most recent song?
Roon Warggi is my latest track. It is currently running on TV channels and one I am immensely proud of. The lyrics have a strong message and the music is catchy. My well wishers have loved the song and am sure those who haven't heard it will love it too.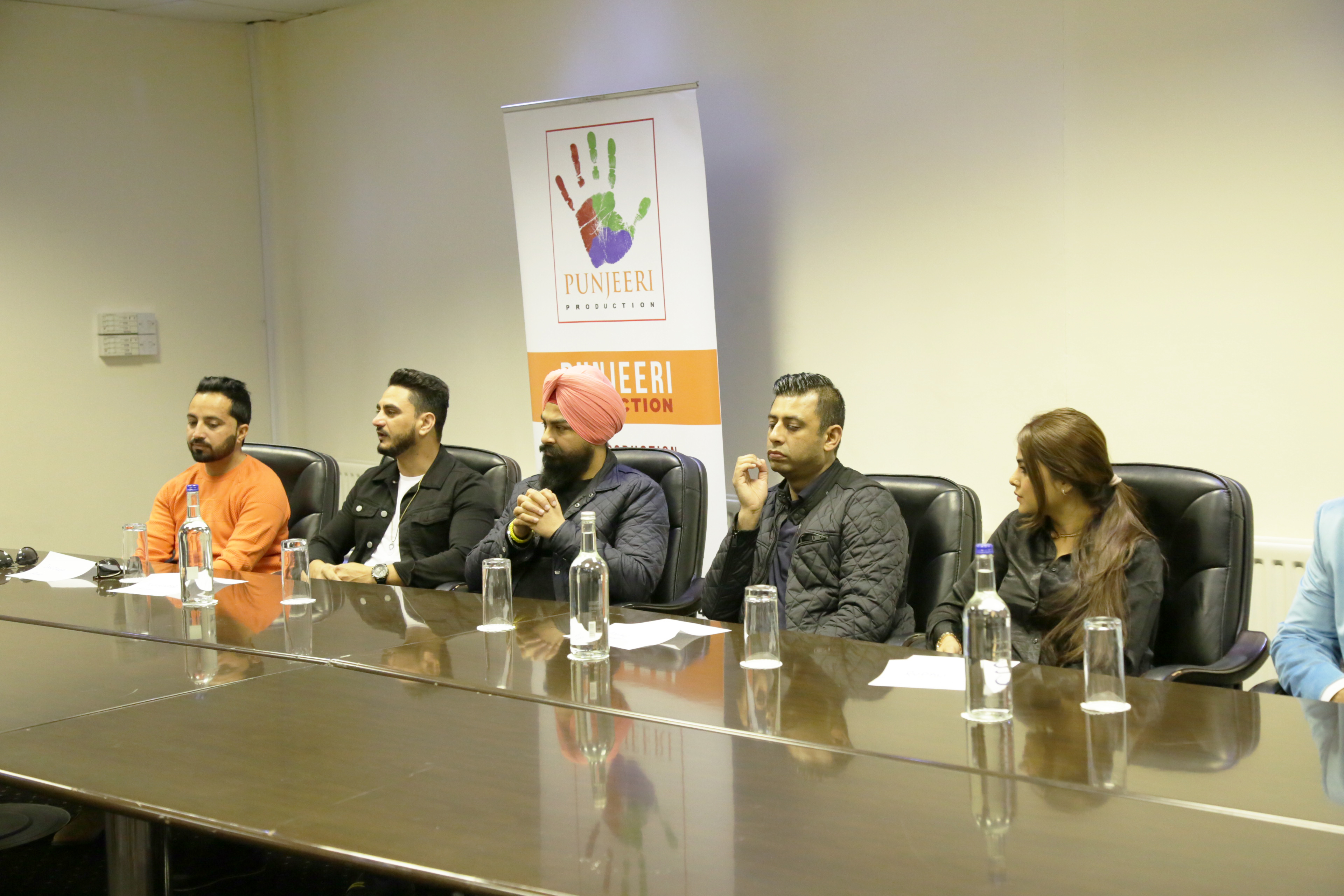 Can you tell if a song will be a hit when you are in the studio?
Like I said it's all in the hands of the listener. They will decide if a song is a success or failure. (Smiles) But sometimes things do fall into place and you start feeling more confident about the track. If the overall project will be good and sound well, it will definitely hit charts.
How much do you like performing live and what has been your most memorable?
I have been performing live since I was a youngster at school. The joy of being on stage has been with me for as long as I can remember and has given me so many beautiful memories. Perhaps the one moment on stage that really stands on is performing live with the great Gurdas Maan saab, which is something I will never forget.
Tell us about your forthcoming UK tour?
I am really looking forward to performing my biggest hits live in front the UK audiences in April. There is a great line up of artists on the bill alongside me including the singer Rupali and the great Aman Hayer. UK audiences really appreciate live music and I am looking forward to giving them an authentic flavour of the Punjab. It is also really great to meet all those who are supporting me on this journey and events like make it happen.
You have achieved a lot, but what is your greatest unfulfilled ambition?
I never set out with the goal of fulfilling big ambitions. It was just about doing what I love and being satisfied in what I do. I feel blessed for all Waheguru has given me and will receive any future blessings with open arms and without any expectations.
Who would you love to sing a duet with?
There are many great artists in this world who I could do a duet with and on top of that list is Jaspinder Narula ji.
You have become a musical hero for many, but who do you look up to the most?
It has to be the one and only Gurdas Maan saab. He has inspired an entire generation with his greatness and humility.
Today what inspires you?
There are so many inspirations all around us. We just need to all look. My biggest driving force is knowing all the hard work my father did for me. That inspires me a lot. My father is my greatest boost to carry on and my biggest hero.
What are your big passions away from music?
I don't have much time away from music and I like that. Music is my life and an endless ocean that keeps on giving. I have a love for music and blessings from God. I couldn't ask for any more.
What is your most Punjabi quality?
(Smiles) Every quality of mine is Punjabi. I am very proud of my identity. My behaviour and way of life reflects my roots, where I come from, my Punjabi culture and my true identity.
What has been your most memorable encounter with a fan?
All the encounters I have with my fans are memorable because they only want the best for me. I will never forget once when an elder fan presented me with my own album (Punjab) and said you have really won my heart. I will never forget that joyful expression on baba jee because they told me how much he loved Punjabi music. It made me realise that somewhere I have contributed to promoting my own Punjabi culture. That I have done something for the Punjab and that is so important for me.
What instrument would you love to learn?
(Smiles) If it were up to me I would learn every single instrument. If I am choosing just one it would be the tumbi and learn it in the similar to Ustaad Manak ji.
What can we expect from you for the rest of the year?
You can expect loads more songs and I really hope you love, just like the previous ones. You can also expect a movie. I am looking into various projects being offered to me.
Why do you love music?
Music has made me what I am today and been like a life long companion. I love music because it is my heart, mind, passion and soul.
Kulwinder Billa will be performing live at Ramgarhia Community Centre in Leicester on April 21 and Supreme Banqueting Suite in Birmingham on April 28. Log onto GoldenPunjab.eventbrite.co.uk to find out more