An Indian youngster has become the first batsman to make 1,000 runs in an innings in an officially recorded match.
The 15-year-old son of a rickshaw driver, Pranav Dhanawade finished his innings on 1,009, not out, in an inter-school tournament recognised by the Mumbai Cricket Association.
By lunch on the second day of the match, the schoolboy had already scored 921, not out, for his side, KC Gandhi School. Soon after play resumed, Pranav had traversed the breadth of the nervous 990s to reach quadruple figures against rivals Arya Gurukul School.
Finishing his innings on 1,009 not out, the teenager's side, KC Gandhi School, declared on 1,465 for three in a match which saw the youngster hit 59 sixes, 129 fours, with a strike-rate of 312.38.
By end of play on day one, Pranav had already shattered a seemingly unsurmountable record, one which had stood for 117 years and over the century become more a spectacle to be marvelled at than to be broken or beaten.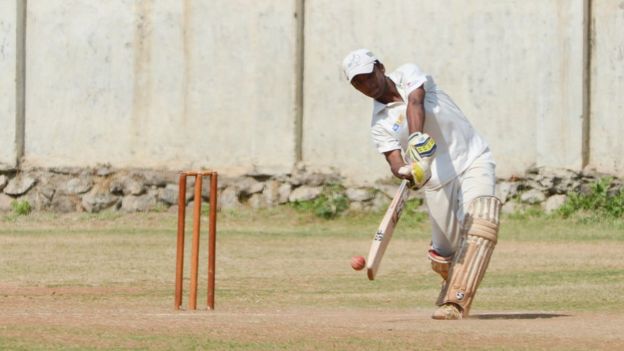 The youngster's 652 runs in 199 on the first day broke the existing record for the highest score made by any individual, standing at 626, not out, made in a house match at Clifton College in June 1899 by the 13-year-old AEJ Collins.
Pranav's coach, Mobin Sheikh, said that people would now be forced to take notice of the schoolboy, saying: "It's very tough for any player from the suburbs to make it to the Mumbai Under-16 side. Fifties, 60s or even a hundred or two will not make a big impact. He needed a very big score and now that he has achieved it, hopefully he will carry on from here."
Following his record-breaking innings, Pranav told the Hindustan Times: "I have always been a big-hitter.
"When I started I never thought about breaking the record.
The focus was never that. I just played my natural game,
which is to attack from the word go.
"After reaching 300, my coach Harish Sharma told me to play on. I did not know of the world record, but we had the Indian record [Prithvi Shaw's 546] in mind."
---
 Highest Scores in Professional Cricket 
Tests: 400* – Record held by Brian Charles Lara
The former Trinidadian international cricket player featured at the top of Test batting rankings on several of occasions during his cricketing career.
ODIs: 264 – Record held Rohit Sharma
The Indian batsman became the first cricketer to reach 250 runs in a one-day international, having beaten the previous record of 219 scored by India's own Virender Sehwag in 2011 against the West Indies.
First class: 501* – Record held by Brian Charles Lara
The ex-international cricketer is acknowledged by many as being among the greatest cricketers of all time. He holds a number of records, one of which is the highest individual score in first-class cricket.