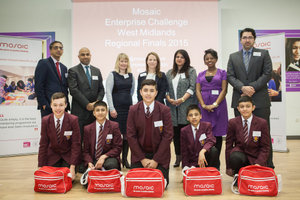 It's an exciting time of the year for us at Mosaic, HRH The Prince of Wales' mentoring charity, because the 2016 Enterprise Challenge competition for schools has launched.
In the West Midlands, 22 schools have already signed up to take part and pupils will soon be honing their entrepreneurial skills with expert guidance and mentoring from some of the region's leading businesses including Jaguar Land Rover, Shakespeare Martineau and Al Rayan bank.
Each team, with the help of inspirational mentors, compete to get the best score on an online business simulation game. The top 5 teams from each region go on to the Regional Finals where they develop a business idea and pitch this idea to a panel of judges. The winners at this event will qualify for the national finals to be held in London in May.
The Enterprise Challenge is one of Mosaic's many programmes that use mentors to support young people in some of the most deprived areas of the UK. Whether it is in schools or in prisons, Mosaic intervenes to encourage and support high aspirations and self-esteem.
On the 26th of January 2016, Mosaic is holding its annual Mosaic: Connect event at Al Rayan Bank in Edgbaston. The evening is a celebration of the work being done, but also a chance to find out more about Mosaic and meet mentors, mentees and supporters.
Anyone is welcome to attend and you can secure your free ticket by visiting:
https://www.eventbrite.co.uk/e/mosaic-connect-west-midlands-tickets-18604917810
If you would like to help inspire and guide young adults, become a Mosaic mentor. For more information please call 020 7566 8734, visit www.mosaicnetwork.co.uk or email mosaic@bitc.org.uk