 Apprentice Star Suffered Disfiguring Burns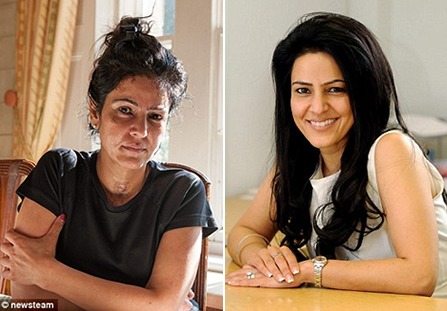 An Asian businesswoman has warned of the dangers of a pressure cookers after one exploded in her face whilst cooking. Kavita Oberoi, who starred in The Apprentice and The Secret Millionaire, said she is lucky to be alive after being left with disfiguring first degree burns after the home appliance burst in her face.  
Mrs Oberoi had been preparing a meal for her family. She lifted the lid to the appliance and was splattered with boiling dhaal. She was taken to Royal Derby Hospital and transferred to Nottingham City Hospital. Now the 45-year-old is starting a campaign showcasing the dangers of using pressure cookers. 
She said: 'There is a safety mechanism in these machines which should make it impossible to open until all the pressure has been released. There shouldn't have been any left inside. I keep thinking I should have left it longer to cool down but there must have been a fault with it. I was home alone. It was absolutely terrifying when it hit my face, the heat was so intense. I was really lucky it didn't touch my eyes. I thought "oh, my God, my face. I'm going to be scarred for life".
Mrs Oberoi, who received an OBE for services to entrepreneurship and start-up businesses last year, added: 'Pressure cookers are very much part of Asian cooking culture. One of my friends had an explosion only just last week from a pressure cooker she bought from a large department store. Luckily, she was on the other side of the kitchen at the time." 
Mrs Oberoi has also raised the issue with her local MP, Pauline Latham, who represents the Mid Derbyshire constituency. Mrs Latham said: 'I was shocked to hear about this horrific accident affecting Kavita and wish her well in her recovery.