 Friends Finish Cancer Victim's Fundraiser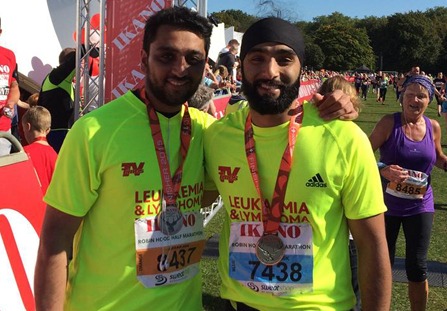 Two friends of a cancer victim have taken up the challenge of completing the fundraiser he left behind. Kamal Aftab died in August after losing his battle with acute myeloid leukaemia, with hundreds of people turning up to his funeral. Mr Aftab, an optometrist who worked in Honley, was dedicated to charity and volunteering, even raising thousands from his hospital bed after his diagnosis. The 33-year-old had been on a mission to raise £50,000 for cancer charity, Bloodwise. The amount stood at £20,000 at his death.

Now, friends Mani Biant and Usman Syed plan to complete the fundraising challenge in honour of Kamal. The two friends have already completed a number of tests which include the Robin Hood Half Marathon. They have already reached over £29,000. Mani works as an optician and said this is the perfect tribute to Kamal. Usman Syed, is a company director and optometrist. The three had studied optometry together at the University of Bradford and remained friends whilst pursuing individual careers.

Loved ones described him as an "amazing human being, full of vibrancy and charity who always placed others before himself."

Kamal, who was previously won the Guardian National Volunteer Award 14/15 for his services to the community, volunteered as a regional youth leader and mentor for Ahmadiyya Muslim Youth Associations (AMYA) – a charity that seeks to teach young people life skills by engaging them in community and charitable initiatives.

Acknowledging his condition, Mr Aftab said, "I suppose that people in my situation react in a whole host of ways; some feel utter despair; others, a sudden sense of mortality and most, a bit of everything… As for me, I'm an optimist by nature and while different people look for strength in various places, it's my belief in God and prayer that have carried me through the challenges of cancer."

Anyone wanting to donate to Kamal's page can do so at: https://www.justgiving.com/hospitalchallenge