 Mother and Daughter Commended By Police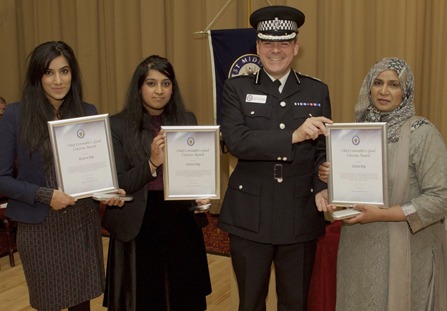 A mother and her two daughters have been commended by West Midlands Police for confronting a robber who tried snatching handbags from their car – and helping police officers catch the crook as he tried escaping.
Mrs Fatima Baig and her daughters Rozyena and Shamma were in Dudley Road, Wolverhampton, in June last year when they spotted a cyclist breaking into their car. 
Thief Americo Gambone, from Parkfields, tried riding off with the handbags but 28-year-old pharmacist Shamma – who was carrying her baby son at the time – and 25-year-old medical student Rozyena bravely blocked his path.
Mum Fatima, aged 55, also stepped in to tackle the 44-year-old and, despite him being armed with a knife, managed to recover both bags from the bike's handlebars.
During the struggle Rozyena made a swift 999 call for police support – and minutes later Gambone was in handcuffs after a motorist who'd witnessed the struggle flagged down a passing patrol car and pointed out the crook to officers.
Sergeant Matt Cooper, said: "Even though the offender was much bigger than them, and struggled while threatening them with a knife, the women fought to get back their property. All three sustained minor injuries, along with the baby boy, and all should be commended for their bravery." 
Gambone was subsequently convicted of attempted robbery and sentenced to two and a half years in prison. 
The family, all from Dudley, received their awards from Deputy Chief Constable Dave Thompson at a special ceremony at Tally Ho!