 The Asian Today Becomes IAB Partner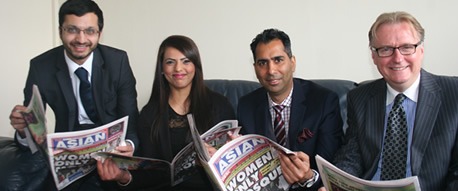 One of the most prestigious business community's in the UK is celebrating after accepting their latest Premier Plus Partner. By signing up The Asian Today, the Institute of Asian Businesses (IAB), which prides itself for being the leading business network for the south-Asian community in the country, adds to its already growing list of partners.
The Asian Today, which is a multi-award winning monthly newspaper based in Birmingham, was founded in 2002 by Ifraz Ahmed and had an initial circulation figure of 20,000. It now distributes up to 80,000 across the East and West Midlands.

Managing director Ifraz Ahmed, who also co-edits the newspaper alongside Anita Chumber, said by becoming an IAB patron, The Asian Today would inevitably strengthen its links with the region's South-Asian community.

He said that the newspaper's appeal was reflected in its content of lifestyle, culture, identity and faith of the wider Asian community. "By exploring subjects and topics affecting second and third generation Asians and maintaining content of interest for elder members of the community we are offering a platform for the community to voice its own views and concerns."
Anita who was with Trinity Mirror before joining The Asian Today, added, "As the Midlands premier English language Asian read, and we like to think we have filled a much-needed gap in the publications marketplace."

IAB president Saqib Bhatti said, "The Asian Today is a keen supporter of our organisation and I am delighted that it is now increasing its involvement with us. It has an established presence in the community and the quality of the 'paper speaks for itself."

Welcoming the newspaper on board at the Chamber, Russell Jeans, membership and business services director, said, "We are delighted at the ongoing relationship with The Asian Today, and its commitment to IAB demonstrates the continuing influence of what is the largest ethnic support organisation in the UK."

Published by The Asian Today Ltd, the company also runs the UK's leading entertainment website, DesiXpress. A free monthly publication, it is distributed widely amongst the South-Asian community and is available via community centres, commercial businesses, libraries, charities, stocked by major retailers including Asda as well as available online.