 Rajasthan Royals to Donate 2% of Annual Profits towards Welfare of Girl Child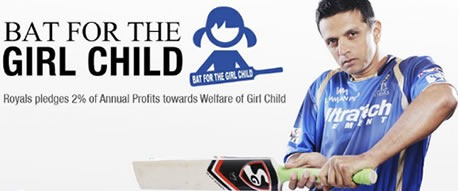 Rajasthan Royals have embarked on an innings of a different kind. The franchise announced its support for the development and welfare of the Girl Child and pledged 2% of the annual profits of the company for the current financial year towards the cause. The franchise has tied-up with 2 NGOs – Educate Girls and Aanganwho will be the beneficiaries of this funding. The British Asian Trust (BAT), part of HRH Prince of Wales Charities, will work as the Implementation Partner with the Rajasthan Royals.
Taking inspiration from the Indian Government's 'BetiBachaoBetiPadhao' initiative, the franchise wishes to heighten awareness around the issues facing the girl child, engage with its fans and other cricket lovers, utilize its digital assets to reach out to audiences and seek to make a difference by contributing brand support and monetary resources towards this cause.
The CSR initiative will support the 2 NGOs on issues that affect the future of the girl child – education of girl children, knowledge of gender discrimination the overall survival, protection and empowerment of the girl child.
Rajasthan Royals proposes to engage with the following two NGOs:
Educate Girls
(
www.educategirls.in
) –funding the enrollment, retention and improved learning outcomes of girls in public schools across Rajasthan.
To create awareness of the campaign "Bat for the Girl Child", Rajasthan Royals will conduct two activities during its home match against the Kolkata Knight Riderson 16th May 2015 at Cricket Club of India, Brabourne Stadium, Mumbai. Spectators and players will release 1000 balloons with the "Bat for the Girl Child" logo to showcase their support for this noble cause.
Ranjit Barthakur, Chairman, Jaipur IPL Cricket Pvt. Ltd, said "The Rajasthan Royals campaign "Bat for the Girl Child" is aimed at cricket lovers but also those of us who can make a difference. We believe that by working with Aangan and Educate Girls, under the aegis of the Government, we can achieve so much more to change the lives of girl children in Rajasthan and India. With the brand and might of the Rajasthan Royals behind it, the team is hoping to gain momentum and generate more support from across its fanbase."
Manoj Badale, Co-Owner, Rajasthan Royals and Chairman of the British Asian Trust, added: "Inspired by the successful 'BetiBachaoBetiPadhao' campaign, we are attempting to utilize the Rajasthan Royals brand platform to build awareness on issues relating to the Girl Child. These issues need as much support as possible, and we at the Rajasthan Royals are fully committed towards contributing our efforts towards these challenges.The British Asian Trust is a charity focused on providing support to development work in South Asia with a particular focus on India and we will monitor and supervise these interventions for the Rajasthan Royals."
Rahul Dravid, Mentor and Coach, Rajasthan Royals, said: "Using the power of sport to make society aware of the challenges that we face collectively and therefore, as a means to change lives, is consistent with the philosophy of the Rajasthan Royals. It gives all of us at Rajasthan Royals a sense of pride and joy to be a part of this initiative that tackles issues relating to the Girl Child and to know that we are also contributing our part to make a positive change in our society."