 The highs & lows of 2006
January
Top Story: The year began with the biggest court case in Bollywood since Sanjay Dutt was imprisoned for his part in the Mumbai blasts. Facing charges relating to the shooting of protected antelope in 1998, superstar Salman Khan stunned court goers when he told the judge "Hang me if I'm guilty".
Other News: Closer to home, former FA secretary Faria Alam, who entered the Big Brother house, stirred up a race row after claiming an Asian or Black person would never win the show! Elsewhere, Brit-actor Naveen Andrews revealed he had fathered a love child following a brief split from partner Barbara Hershey!
February
Top Story: Salman Khan was sentenced to one year in jail after being found guilty of shooting protected antelope.
Other News: Bollywood actress Khusboo filed a defamation suit against British men's magazine Maxim after it digitally imposed her face on a semi-nude model above the caption 'Of course I am a virgin if you don't count from the behind'. The magazine claimed the piece was tongue and cheek but the actress failed to see the funny side of it.
March
Top Story: Pop star Deeyah incurred the wrath of the Muslim community after the video for her latest song 'What will it be' aired on music channels across the world. It showed the Norway-born singer wearing a burqa before ripping it off to reveal a skimpy bikini underneath. Her management stepped up security after she revealed she received death threats in response to the video.
Other News: Aishwariya Rai hit British screens in the Gurinder Chadha directed film 'The Mistress of Spices'.
April
Top Story: Actor-come-rapper Riz Ahmed faced a fight with mainstream radio stations after a number publicly refuse to play his debut song 'Post 9/11 Blues'. Despite being a satirical look on Britain and America's terror laws, the obvious reference to the 9/11 tragedy scared off a number of high-profile media outlets.
Other News: British director Gurinder Chadha also confirmed reports that she will take on the big-screen adaptation of hit TV show 'Dallas'. The film, which is set for a late 2007 release, will apparently star John Travolta as JR.
May
Top Story: Everybody's favourite show Big Brother returned to our screens and it wouldn't be the same without your typical Asian face. Scotland's Asian gay prodigy Shahbaz Chauhdry became that person but his 'in yer face' antics didn't go down too well with his fellow housemates. After just five days in the house, where he threatened to kill himself, he walked out!
Other News: British director Navdeep Singh Kandola found himself on the wrong side of the law in May after West Yorkshire Police threatened to disrupt the shooting of his latest film 'PS-Paki Slag'. Police chief Jon Carter objected to the title of the film saying it incited racial hatred. The dispute was eventually resolved after Kandola agreed to drop the words 'Paki Slag' from the title. Showbiz stars Aishwariya Rai and Preity Zinta strutted their stuff at the Cannes Film festival and Kajol made her long-awaited return to the big screen in the critically acclaimed Amir Khan starrer Fanaa.
June
Top Story: As footie fever gripped the country, British female rapper M.I.A was denied entry into the US because of her political lyrics. Daughter of a Sri Lankan Tamil Tiger rebel, her songs highlighted the Tamil Tiger's 30-year separatist campaign against Sri Lankan armed forces. That was enough for the US to deny her entry!
Other news: Women's rights group Southall Black Sisters take a swipe at Jagmohan Mundhra's 'Provoked' starring Aishwariya Rai saying the film, based on the real-life events surrounding Kiranjit Aluwalia's conviction and acquittal for killing her husband, is "inaccurate".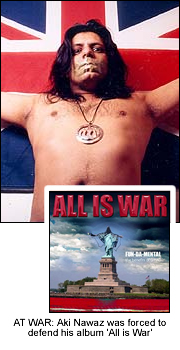 July
Top Story: Fun-Da-Mental front man Aki Nawaz found himself in the middle of musical turmoil after he was accused of supporting terrorism and Osama Bin Laden through his latest album 'The Benefits of G-Had'. His record company refused to fund the release of the album following the controversy forcing him to release it independently after a delay. But speaking to The Asian Today, Aki denied condoning terrorism saying the responsibility for terrorism in the UK should lie with the Government's foreign policy.
Other news: Brit director Gurinder Chadha was awarded an OBE in the Queen's annual birthday celebrations and the Sanjay Leela Bansali starrer 'Black' walked away with the top awards at the IIFA Awards held in Dubai.
August
Top Story: Proving Bollywood has finally been accepted, the British Academy of Film and Television Arts honoured the industry in a special 3-day series. Stars Shah Rukh Khan, Karan Johar and Yash Chopra are flown in especially for the event.
Other News: A London-based company looked to cash in on the Bollywood phenomenon after producing the first ever range of Bollywood dolls.
September
Top story: Bollywood star Amir Khan seemed to have quite a likening for the Oscars after it was revealed his film 'Rand De Basanti' would be India's entry for the Best Foreign Film Oscars.
Other News: The Rishi Rich project proved they still had an adoring fan base after hundreds turned out in force during an album signing in Birmingham and Birmingham-born actress Agam Darshi made her way onto the big screen in big-blockbuster 'Snakes on a Plane' opposite Samuel L Jackson.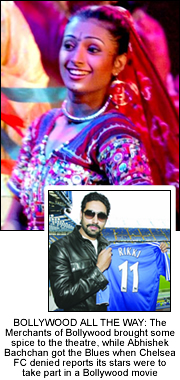 October
Top story: Star studded show The Merchants of Bollywood opened to packed audiences in Birmingham as part of its nationwide tour. The show, billed as the biggest Bollywood extravaganza since the West End show Bombay Dreams, received rave reviews during its previous stint in Australia.
Other News: Shah Rukh Khan returns to the screen in the modern-day remake of Amitabh Bachchan's hit Don and Chelsea football club put pay to rumours that stars John Terry, Frank Lampard and Jose Mourinho are to be cast in a Bollywood film. The reports surface after star Abhisheck Bachchan has a photo-shoot at Stamford Bridge in preparation for the release of his footie film 'Jhoom'.
November
Top Story: Bollywood star Sanjay Dutt was found guilty in connection with the Mumbai blasts in India. The 47-year-old was cleared of a more serious charge of conspiracy in the attacks which killed 257 people and injured over 700 more. His sentenced is expected to be announced in early January 2007.
Other News: Gurinder Chadha ran into trouble just months before shooting begins on the big-screen adaptation of Dallas. While big-name stars J-lo, Luke Wilson and Shirley Maclaine decided against the project, there was uncertainty over whether the British director would stick to the project. Bollywood star Hritikh Roshan becomes the industry's highest paid actor after banking a whopping Rs 12 crore per film as part of a deal with film giants Adlabs, and Birmingham goes nuts over Ajay Devgan and Kajol when they fly into town to take part in the annual Mela celebrations.
December
Top story: Proving that anything is possible in Bollywood, a case was filed in an Indian court against stars Aishwariya Rai and Hritikh Roshan for their on-screen kiss in the blockbuster Dhoom 2. The kiss was described in court papers as an "obscene sequence" and may force both stars to appear in court! And to make matters worse for Ash, some news reports allege the Bachchan's are also not too pleased to see the woman who could give become their future daughter-in-law locking lips with her co-star!
Other News: Priyanka Chopra and Shahid Kapur sizzle on stage alongside Latino sensation Nelly Furtado in a special New Years gig in India, and John Abraham's Kabul Express becomes the first film to shoot in post-Taliban Afghanistan. The shoot, which may well go down as one of the shortest in Bollywood history, was speeded up after the production crew received death threats!